WINNIPEG, Manitoba, September 14, 2015 /CNW/ – Pollard Banknote Limited
(TSX: PBL) ("Pollard Banknote") a leading lottery partner that provides instant tickets, interactive solutions, and marketing support, is pleased to announce the addition of Awkward Family Photos®—an internet sensation that explores those perfectly imperfect family snapshots—to its portfolio of licensed brands. This new licensing agreement will give lottery clients the opportunity to utilize images from this unique online forum that showcases strange and uncomfortable family photos. With a strong social media presence, the addition of this wacky and whimsical brand to a lottery's ticket lineup will entertain and delight players while expanding the lottery's player base across new demographic groups.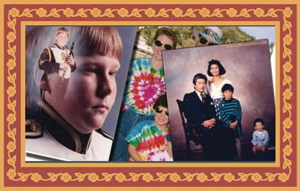 The idea for the Awkward Family Photos® ("AFP®") website was conceived by two childhood friends. After seeing an awkward vacation photo hanging in one of their parents' homes, they discovered that they weren't the only ones with cringe-worthy family moments caught on film. So they decided to create a place where people could share their own hilariously unforgettable, embarrassing family photos. The family-friendly site launched in 2009 and quickly took off—a celebration of awkwardness that has quickly become a global phenomenon. The site now receives millions of visits and submissions from around the world. It has three million unique visitors and 15 million page views every month, and to date has 2.6 million Facebook fans, 100,000 Instagram followers, and 50,000 app downloads. The brand has been featured on major media outlets, including ABC, NBC, CNN.com, Time.com, NBC.com, and the home pages of MSN, Yahoo, and AOL.
Under this exclusive license, Pollard Banknote now has access to over 1,300 images to help lotteries create instant tickets featuring fun-filled family shots. By leveraging the brand's overwhelming popularity online, lotteries will have the opportunity to offer unique second chance draws and other exciting interactive features to maximize player engagement. Furthermore, because the AFP® brand extensions include an app, board games, and calendars, lotteries can explore a variety of marketing options in partnership with Pollard Banknote's licensed products team.
"Pollard Banknote is very excited to exclusively offer Awkward Family Photos® to our lottery clients,"noted Sina Aiello, Pollard Banknote's Vice President, Marketing. "It's a very social brand with a significant Facebook and Instagram presence. It has been gaining momentum recently with the launch of four books and a touring museum exhibition, and we look forward to leveraging this momentum with a variety of entertaining promotional opportunities for our clients."
Pollard Banknote's licensed products team offers a fully integrated turnkey program in order to leverage the brand's ability to drive player engagement that includes the design, programming, and printing of themed tickets, as well as various options such as second chance draws, a POS program, and broadcast and digital marketing.
The Awkward Family Photos® license enhances Pollard Banknote's sales-driving portfolio of high-profile brands selected to appeal to the existing lottery player while attracting new players that are brand loyal. Current licenses include Jelly Belly®, Tetris®, Frogger, Star Trek™, NASCAR®, and others. Lotteries are invited to contact the licensed products team at Pollard Banknote to learn more about the strengths of the Awkward Family Photos® brand and how a licensed instant game can complement their instant ticket lineup.
About Awkward Family Photos®
The online photo forum Awkward Family Photos®, founded in 2009, is a family-friendly celebration of awkwardness that has become an internet sensation. The Webby Award-winning site receives millions of visits and submissions from around the world. More information can be found on their website: .
www.awkwardfamilyphotos.com
.
FOR MORE INFORMATION, CONTACT:
Sina Aiello
Vice President, Marketing
Phone: (204) 474-2323
saiello@pbl.ca