WINNIPEG, Manitoba, October 21, 2015 /CNW/ – Pollard Banknote Limited (TSX: PBL) ("Pollard Banknote")) is pleased to congratulate Slovakia's largest sports betting company, Niké, on the launch of its instant ticket Oko berie with Flip Scratch™—the latest print innovation from Pollard Banknote and its first launch worldwide.

Launched on October 20th, the 5€ Oko berie (Blackjack) offers players a ticket with the added value and excitement of Flip Scratch™ by combining pop-open windows on scratch-off games that double the amount of play. Flip Scratch™ is a patented Fusion® product that consists of two layers of recyclable card stock laminated together. Players break open windows to reveal variable imaging on the back of each window and a scratch area that covers additional play symbols.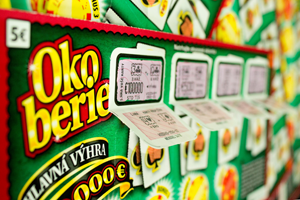 Flip Scratch™ accommodates a variety of play styles, including symbol match, slots and popular card games such as poker, blackjack, and high low. Niké incorporates the excitement of blackjack player and dealer cards into the game play of Oko berie with Flip Scratch™ by allowing players to break open perforated windows to reveal the dealer cards and then scratch off corresponding play areas to reveal their own hand. Bonus panels open to reveal additional scratch-off areas that increase the value by adding yet another layer of play that is simple and fun.

"All of us at Pollard Banknote are very excited that Niké has chosen our new Flip Scratch™ innovation to enhance its latest instant ticket offering," said Nancy Bettcher, Vice President, Product Innovation & Development, Pollard Banknote. "The new look and play style will not only draw attention at retail, but also offers a fun new way to play that's different from other products players have seen before. The new format adds value for players with a whole new layer of winning opportunities."

"At Niké, we are always interested in finding new and innovative ways to entertain and delight our players," said Michal Dáni, Lottery Director, Niké. "Flip Scratch™ has simulated the excitement of blackjack and we look forward to sharing this exciting new concept with our players."

Niké, the first betting company in Slovakia, has been operating since January 29, 1991. Since its establishment it has been the largest betting company in the territory of Slovakia, with more than 900 branches distributed throughout the region. The company's main activity is fixed-odds betting, approved by the Ministry of Finance of the Slovak Republic. Pollard Banknote is the company's sole supplier of instant scratch tickets.
About Pollard Banknote
Pollard Banknote is a leading lottery partner to more than 50 lotteries worldwide, providing high quality instant ticket products, licensed games, and strategic marketing and management services for both traditional instant games and the emerging iLottery space of web, mobile, and social channels. The company is a proven innovator and has decades of experience helping lotteries to maximize player engagement, sales, and proceeds for good causes. Pollard Banknote also plays a major role in the charitable pull-tab and bingo markets in North America. Established in 1907, Pollard Banknote is owned approximately 73.5% by the Pollard family and 26.5% by public shareholders and is publicly traded on the TSX (PBL). For more information, please visit our website at www.pollardbanknote.com.
Forward-looking Statements
Certain statements in this press release may constitute "forward-looking" statements and information, which involve known and unknown risks, uncertainties, and other factors that may cause actual results, performance, or achievements to be materially different from any future results, performance, or achievements expressed or implied by such forward-looking statements. When used in this document, such statements include such words as "may," "will," "expect," "believe," "plan," and other similar terminology. These statements reflect management's current expectations regarding future events and operating performance and speak only as of the date of this document. There should not be an expectation that such information will in all circumstances be updated, supplemented, or revised whether as a result of new information, changing circumstances, future events, or otherwise.
-30-
FOR MORE INFORMATION CONTACT:
Doug Pollard
Co-Chief Executive Officer
Telephone: (204) 474-2323       
E-mail: dpollard@pbl.ca
John Pollard
Co-Chief Executive Officer
Telephone: (204) 474-2323       
E-mail: jpollard@pbl.ca
Rob Rose
Chief Financial Officer
Telephone: (204) 474-2323       
E-mail: rrose@pbl.ca