WINNIPEG, Manitoba, June 19, 2017 /CNW/ – Pollard Banknote Limited (TSX: PBL) ("Pollard Banknote") congratulates the Minnesota State Lottery ("Minnesota Lottery") on the success of its $5 PAC-MAN® Money Hunt instant ticket.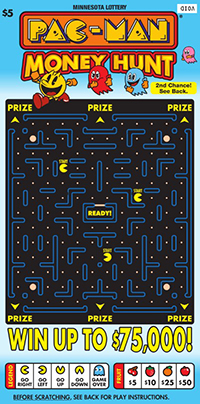 Launched on February 7, 2017, the game's 10-week average sales were 41% higher than the average 10-week sales of all other $5 games launched in Minnesota since 2014, confirming the enduring appeal of the PAC-MAN® brand. The PAC-MAN® arcade game was an instant hit with players when it launched in North America in 1980, and the brightly-colored mascot quickly became one of the most iconic video game characters of all time. Combining the nostalgic flair of the video game with proven high-appeal of instant ticket designs, it's easy to see why players are gobbling up this game.

For maximum excitement, the Lottery launched an interactive game and a second chance website giving players the opportunity to score some great PAC-MAN® gear, gift cards, or the grand prize: a PAC-MAN® game console.

"In the first few weeks after launch, it was apparent the game would be a huge success," said Jason LaFrenz, Director of Marketing and Sales, Minnesota Lottery. "We work diligently to bring our players the best instant games that the industry has to offer and we look forward to continuing to work with Pollard Banknote to explore new ideas and new initiatives in the years to come." 

"The powerful, well-recognized PAC-MAN® brand has proven its ability to perform exceptionally well across multiple jurisdictions, proving that time and again, licensed instant games enhance player excitement and engagement," said Sina Aiello, Vice President, Marketing, at Pollard Banknote. "This is especially true for PAC-MAN®, which offers lotteries fun merchandising options ranging from the classic arcade console to the online interactive game."

The Minnesota Lottery has been supporting good causes throughout the state since 1989. Over the years the Lottery has raised over $2.6 billion that is directed to the General Fund and the Minnesota environment. The General Fund supports education, health care, local governments, and public safety. The funds also help the environment in many ways through the Environment and Natural Resources Trust Fund. For more information about the Lottery, please visit www.mnlottery.com.

PAC-MAN®&©BANDAI NAMCO Entertainment Inc.
About Pollard Banknote
Pollard Banknote is a leading lottery partner to more than 60 lotteries worldwide, providing high quality instant ticket products, licensed games and strategic marketing and management services for both traditional instant games and the emerging iLottery space of web, mobile and social channels. The company is a proven innovator and has decades of experience helping lotteries to maximize player engagement, sales, and proceeds for good causes. Pollard Banknote also plays a major role in the charitable pull-tab and bingo markets in North America. Established in 1907, Pollard Banknote is owned approximately 73.5% by the Pollard family and 26.5% by public shareholders and is publicly traded on the TSX (PBL). For more information, please visit our website at www.pollardbanknote.com.
Forward-looking Statements
Certain statements in this press release may constitute "forward-looking" statements and information, which involve known and unknown risks, uncertainties, and other factors that may cause actual results, performance, or achievements to be materially different from any future results, performance, or achievements expressed or implied by such forward-looking statements. When used in this document, such statements include such words as "may," "will," "expect," "believe," "plan," and other similar terminology. These statements reflect management's current expectations regarding future events and operating performance and speak only as of the date of this document. There should not be an expectation that such information will in all circumstances be updated, supplemented, or revised whether as a result of new information, changing circumstances, future events, or otherwise.
-30-
FOR MORE INFORMATION, CONTACT:
Sina Aiello
Vice President, Marketing
Email: saiello@pbl.ca
Pollard Banknote Limited
Telephone: (204) 474-2323