WINNIPEG, Manitoba, June 11, 2018 /CNW/ – Pollard Banknote Limited (TSX: PBL) ("Pollard Banknote") congratulates the Minnesota State Lottery ("Minnesota Lottery") on the tremendous success of its innovative Minnesota Treasures Playbook Mini™ instant ticket, which is the first of its kind launched in the U.S. market. Minnesota Treasures has contributed to a remarkable 39% sales growth in the $10 category, based on a comparison of sales 10-weeks before and after its launch on February 6th, 2018.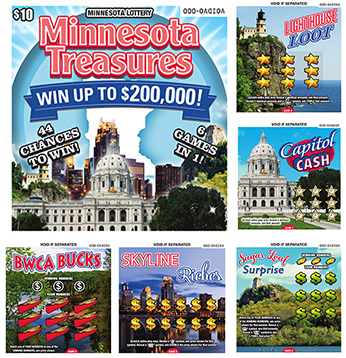 Looking to capitalize on past successes with Minnesota themed tickets, the Lottery leveraged the unique multi-page format of Pollard Banknote's Playbook Mini™ to deliver six games featuring the regional charms of the state. From the natural beauty of the Boundary Waters Canoe Area to the glowing skyline of Minneapolis, Minnesota Treasures gives players across the state the chance to see their favorite landmark or local attraction captured as part of this collection of games. Minnesota Treasures offers players a huge value proposition at the $10 price point with 44 chances to win nearly half a million prizes ranging from $10 to $200,000.
The Playbook Mini™ is Pollard Banknote's 'fun-size' version of its patented Playbook® that takes extended play to new heights by merging multiple games into one entertaining booklet offering endless possibilities for imaginative themes and play styles.
The Lottery utilized an effective strategy to entice players by loading the Playbook Mini™ with low and mid-tier prizes that create more chances for memorable wins. By combining this prize structure with the popular state theme in the novel format of the Playbook Mini™, Minnesota Treasures stands out at retail and delivers on customer expectations.
"Our players have been asking for a new Playbook® game and we are thrilled with the mini version Pollard Banknote has created for our customers," said Robert Doty, Executive Director of the Minnesota Lottery. "Pollard Banknote's innovative concepts and informed strategies elevate the entertainment value for our players, which helps our Lottery maximize revenues for state projects that maintain and improve the landmarks featured in Minnesota Treasures."
"Pollard Banknote is pleased to see the Playbook Mini™, enhanced with the proven strategies of local themes and a low and mid-tier loaded prize structure, paying off for the Minnesota Lottery at retail," said Byron Peterson, Director of Sales and Marketing, Pollard Banknote. "We look forward to continuing to partner with the Lottery to deliver unique play experiences and exciting tickets for their customers."
The Minnesota Lottery has been supporting good causes throughout the state since 1989. Over the years the Lottery has raised more than $2.7 billion for programs that improve the quality of life for Minnesotans across the state, including over $1 billion for the Environment and Natural Resources Trust Fund, which supports projects that sustain natural ecosystems and protect endangered species. The General Fund supports education, health care, local governments, and public safety. For more information about the Lottery, please visit www.mnlottery.com.
About Pollard Banknote
Pollard Banknote is a leading lottery partner to more than 60 lotteries worldwide, providing high quality instant ticket products, licensed games, and a full suite of digital offerings ranging from game apps to comprehensive player engagement and iLottery solutions, including strategic marketing and management services. The company is a proven innovator and has decades of experience helping lotteries to maximize player engagement, sales, and proceeds for good causes. Pollard Banknote also plays a major role in providing pull-tab tickets, bingo paper and its Diamond Game and Oasis-branded electronic ticket machines to charitable and other gaming markets in North America. Established in 1907, Pollard Banknote is owned approximately 67.6% by the Pollard family and 32.4% by public shareholders, and is publicly traded on the TSX (PBL). For more information, please visit our website at www.pollardbanknote.com.
Forward-looking Statements
Certain statements in this press release may constitute "forward-looking" statements and information, which involve known and unknown risks, uncertainties, and other factors that may cause actual results, performance, or achievements to be materially different from any future results, performance, or achievements expressed or implied by such forward-looking statements. When used in this document, such statements include such words as "may," "will," "expect," "believe," "plan," and other similar terminology. These statements reflect management's current expectations regarding future events and operating performance and speak only as of the date of this document. There should not be an expectation that such information will in all circumstances be updated, supplemented, or revised whether as a result of new information, changing circumstances, future events, or otherwise.
-30-
FOR MORE INFORMATION CONTACT:
Pollard Banknote Limited
Telephone: (204) 474-2323