WINNIPEG, Manitoba, March 21, 2019 /CNW/ – Pollard Banknote Limited (TSX: PBL) ("Pollard Banknote"), congratulates the Virginia Lottery on the success of its PAC-MAN® Scratcher ticket. The game launched in late 2018 and was supported by a second chance promotion. The brand is recognized around the world as one of the most iconic videogame characters of all time, and the nostalgic brand has proven to be a hit with lottery players. PAC-MAN® is one of the Virginia Lottery's most successful licensed products to date, achieving 22% higher sales than any of the Lottery's other $2 licensed games launched since 2012 (based on ten-week sales).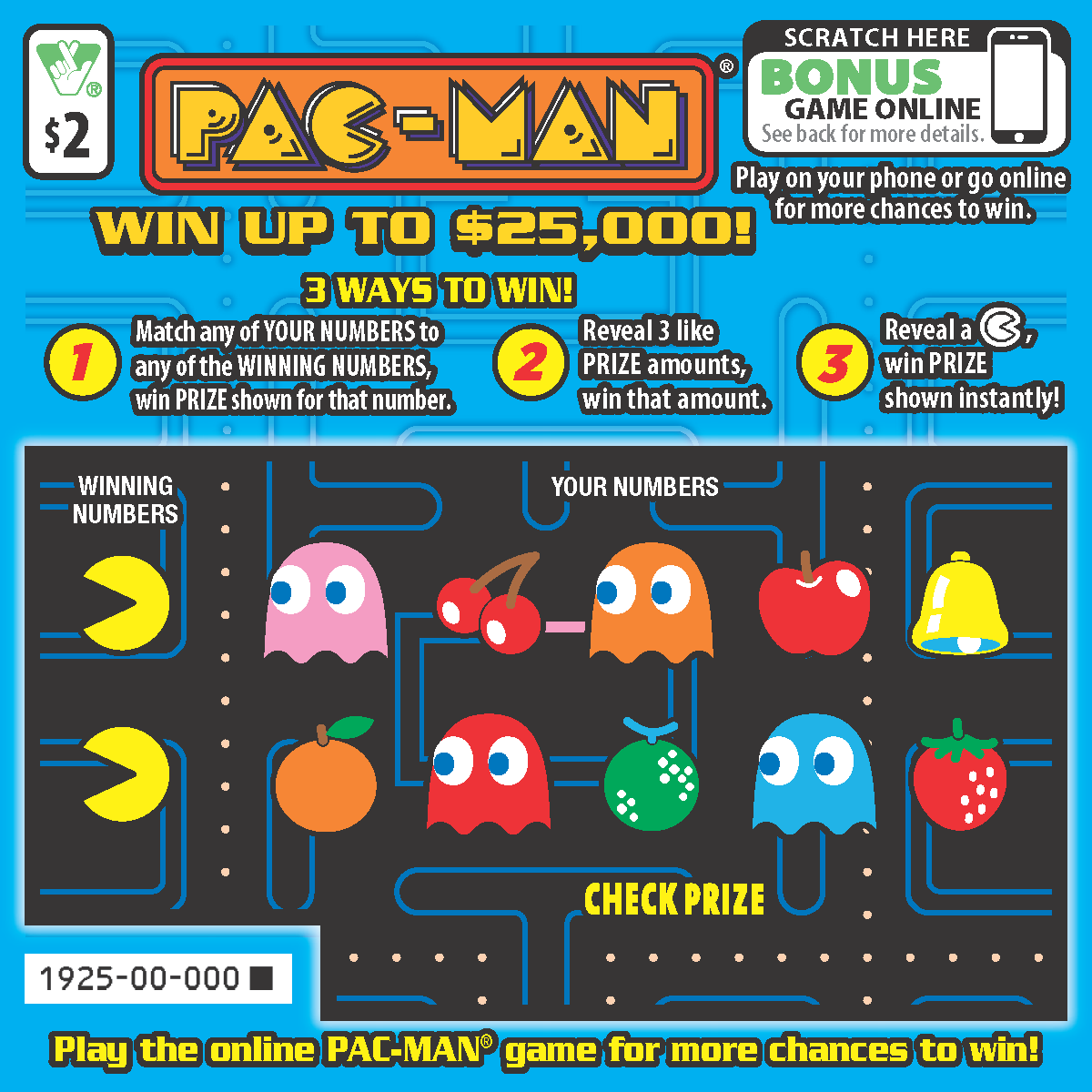 The $2 PAC-MAN® Scratcher comes in five different color pulses and features a bite-sized match-3 playstyle that players enjoy at this entry-level price point. The simple gameplay, combined with the nostalgic, colorful characters, makes the game attractive to both new and existing players.

The Lottery has also given the game an extra life—non-winning PAC-MAN® Scratchers can be entered into a second chance draw for the chance to win exciting brand-themed merchandise, including arcade machines. One lucky second chance winner will receive the PAC-MAN® Cave Grand Prize Package which includes a PAC-MAN® Pixel Bash Cocktail Arcade Machine, as well as a $5,000 cash prize and various PAC-MAN® branded merchandise.

PAC-MAN® made his debut in Virginia with a launch event at The Circuit Arcade Bar in Richmond on Friday, December 7. The event included prizes and giveaways, an appearance by the PAC-MAN® mascot, and classic PAC-MAN® arcade games. The Lottery showcased the evening's festivities via a live-stream on its Facebook page and behind-the-scenes footage on its Instagram stories.

"We have been very pleased with the initial results from the PAC-MAN® Scratcher," said Kevin Hall, Executive Director, Virginia Lottery. "The brand's popularity and iconic characters prompted us to build a fun launch event and offer second-chance promotions which we expect to bring in new players and ultimately boost our efforts to support Virginia's public schools."

"PAC-MAN® has performed exceptionally well in many jurisdictions across the U.S., with the Virginia Lottery experiencing the most recent success," said Brad Thompson, Vice President, Sales & Marketing, Pollard Banknote. "The Lottery has done an outstanding job of promoting this exciting brand with a strong second chance promotion and a fun arcade-themed launch event. The combined support of the powerful brand and the strong promotional support have made this game a hit with Virginians."

Pollard Banknote's Licensed Products team offers a full turnkey program that includes the design, programming, and printing of themed tickets, as well as various options such as second chance draws, a POS program, and broadcast and digital marketing.

PAC-MAN®&©BANDAI NAMCO Entertainment Inc.

About Virginia Lottery
Now in its 30th year, the Virginia Lottery generates more than $1.6 million per day for Virginia's K-12 public schools. Operating entirely on revenue from the sale of Lottery products, the Lottery generated more than $600 million for Virginia's public schools in Fiscal Year 2018. In addition, more than $14 million in unclaimed Virginia Lottery prizes went to Virginia's Literary Fund to support school construction and classroom technology upgrades. For more info, visit our website, download our app, like us on Facebook, follow us on Twitter and Instagram, and check us out on YouTube. Please play responsibly.
About Pollard Banknote
Pollard Banknote is a leading lottery partner to more than 60 lotteries worldwide, providing high quality instant ticket products, licensed games, Schafer Systems retail merchandising solutions, and a full suite of digital offerings, ranging from game apps to comprehensive player engagement and iLottery solutions, including strategic marketing and management services. The company is a proven innovator and has decades of experience helping lotteries to maximize player engagement, sales, and proceeds for good causes. Pollard Banknote also provides pull-tab tickets, bingo paper, and its Diamond Game and Oasis-branded electronic ticket machines to charitable and other gaming markets in North America. Established in 1907, Pollard Banknote is owned approximately 67.5% by the Pollard family and 32.5% by public shareholders, and is publicly traded on the TSX (PBL). For more information, please visit our website at www.pollardbanknote.com.
Forward-looking Statements
Certain statements in this press release may constitute "forward-looking" statements and information, which involve known and unknown risks, uncertainties, and other factors that may cause actual results, performance, or achievements to be materially different from any future results, performance, or achievements expressed or implied by such forward-looking statements. When used in this document, such statements include such words as "may," "will," "expect," "believe," "plan," and other similar terminology. These statements reflect management's current expectations regarding future events and operating performance and speak only as of the date of this document. There should not be an expectation that such information will in all circumstances be updated, supplemented, or revised whether as a result of new information, changing circumstances, future events, or otherwise.
-30-
FOR MORE INFORMATION, CONTACT:
Brad Thompson
Vice President, Sales & Marketing
Telephone: (204) 474-2323
E-mail: bthompson@pbl.ca