WINNIPEG, Manitoba, January 20, 2020 /CNW/ – Pollard Banknote Limited
(TSX: PBL) ("Pollard Banknote"), is thrilled to announce the renewal of the Chevrolet® Corvette® brand, extending the exclusive license agreement until the end of 2022. The renewal coincides with the release of the new 2020 Corvette® Stingray™, featuring the most innovative engineering since the debut of the first Corvette® in 1953.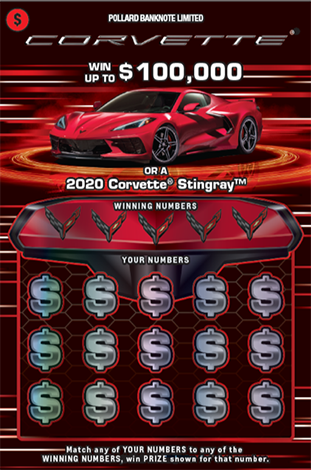 Since 2015, Corvette® has turbo-charged Pollard Banknote's sales driving portfolio of high-profile brands that appeal to existing lottery players and attract new brand-loyal players. In that time, lotteries have revved up their instant ticket portfolios with Corvette® to great success. Lotteries that have launched Corvette® appreciate the brand's widespread appeal and enthusiasm shown by players and retailers. Promotional events that feature a Corvette® on display generate buzz and excitement, making it easy for players to envision themselves behind the wheel. Under this renewal agreement, Pollard Banknote will continue to deliver captivating lottery scratch tickets that capture the luxury, power, and prestige of Corvette®.
The license renewal also comes on the cusp of the release of the 2020 Corvette® Stingray™! As Corvette®'s first ever mid-engine model, the 8th Generation Corvette® has been completely redesigned to deliver an intense thrill with every drive. As the recently awarded 2020 MOTORTREND Car of the Year, the new 2020 Corvette® Stingray™ is sure to appeal to lottery players and car enthusiasts everywhere.
The popularity of Corvette® extends beyond the road with an impressive following on social media. Over 3.3 million admirers interact with the brand via Facebook, and 3 million fans follow Corvette® on Instagram to view the latest photographs and videos that display the car's provocative and distinct design. The brand's strong online presence facilitates the incorporation of social media elements into a lottery program, resulting in invaluable player engagement.
"Pollard Banknote is very excited to continue our partnership with Chevrolet and to be able to offer the Corvette® brand to our lottery clients," said Brad Thompson, Vice President, Sales & Marketing, Pollard Banknote. "Corvette® stands out as one of the automotive industry's most luxurious sports cars and the release of the new 2020 Corvette® Stingray™ will make the brand a welcome addition to any lottery portfolio. Corvette®'s bold look, premium design, and incredible performance draw immediate attention and make it the ultimate aspirational prize for any lottery player. We look forward to continuing to provide our lottery customers with the opportunity to capitalize on Corvette®'s brand prestige and social media presence to deliver an enhanced lottery experience to players."
Pollard Banknote's Licensed Products team offers a full turnkey program that includes the design, programming, and printing of themed tickets, as well as various options such as second chance draws, a POS program, and broadcast and digital marketing.
About Chevrolet
Founded in 1911 in Detroit, Chevrolet is now one of the world's largest car brands, doing business in more than 115 countries and selling around 4 million cars and trucks a year. Chevrolet provides customers with fuel-efficient vehicles that feature engaging performance, design that makes the heart beat, passive and active safety features and easy-to-use technology, all at a value. More information on Chevrolet models can be found at
chevrolet.com
.
FOR MORE INFORMATION, CONTACT:
Brad Thompson
Vice President, Sales & Marketing
Telephone: (204) 474-2323
E-mail:
bthompson@pbl.ca