WINNIPEG, Manitoba, January 29, 2020 /CNW/ – Pollard Banknote Limited
(TSX: PBL) ("Pollard Banknote"), is delighted to announce the addition of five classic TV shows—Beverly Hills, 90210, Happy Days, The Brady Bunch, Hawaii Five-0, and The Love Boat—to its portfolio of licensed brands. These nostalgic shows are an excellent addition to Pollard Banknote's suite of classic entertainment brands that have proven to appeal to instant ticket players' desire to revisit beloved series of times past.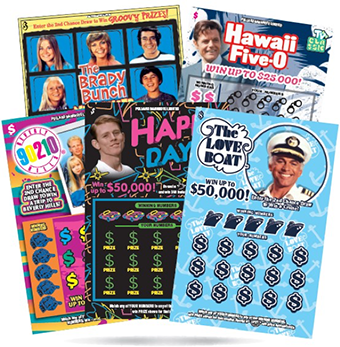 Under the license of ViacomCBS Consumer Products, Pollard Banknote now offers a wide range of iconic brand assets for lottery use from these timeless programs, including character images and photos, quotes, logos, icons, and backgrounds. Ticket designs can feature a single show or mix and match assets to create unified ticket themes. To support strong sales and engagement, Pollard Banknote's Licensed Products team offers lotteries a comprehensive turnkey program that includes the design, programming, and printing of themed tickets, as well as various optional enhancements such as second chance draws, merchandise prizing, a POS program, and digital marketing.
"These iconic TV shows share a common legacy of resonant storytelling and broad audience appeal that has made them perennial favourites with new and established fans alike," said Brad Thompson, Vice President, Sales & Marketing, Pollard Banknote. "We are thrilled to be able to offer these timeless brands to our lottery clients. There are countless options for eye-catching ticket designs that provoke players' sense of nostalgia, as well as a wealth of exciting promotional and second chance opportunities, such as drawings for themed merchandise or experiential trip prizing."
FOR MORE INFORMATION, CONTACT:
Brad Thompson
Vice President, Sales & Marketing
Telephone: (204) 474-2323
E-mail:
bthompson@pbl.ca