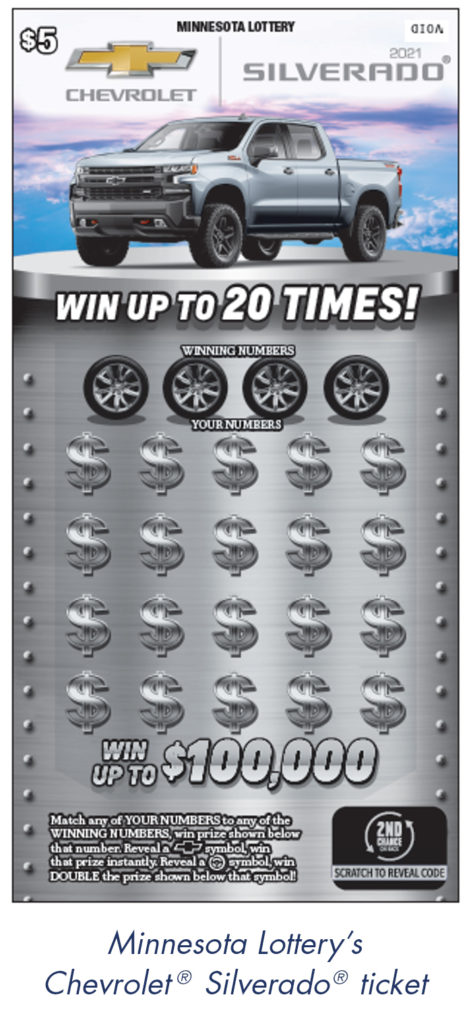 WINNIPEG, Manitoba, April 28, 2021 /CNW/ – Pollard Banknote Limited
(TSX: PBL) ("Pollard Banknote") congratulates the Minnesota Lottery ("Lottery") on the success of its $5 Chevrolet® Silverado® instant ticket. The game launched in early March and includes an exciting 2nd Chance promotion that will see one lucky player drive home a 2021 Chevrolet Silverado® Trail Boss. Based on the first five weeks of sales, Chevrolet Silverado® has sold a remarkable 56% higher than the average of all $5 licensed games launched since 2018.
The exciting new ticket features the legendary truck front and center, accompanied by tire and dollar sign icons that reveal the game's key number match play style beneath. The game offers multiple chances to win, including the opportunity to scratch to win up to $100,000 instantly by revealing a Chevrolet symbol, and by revealing a steering wheel, players win double the prize shown beneath the symbol! In addition, non-winning tickets are eligible for entry into the Lottery's prize-packed 2nd Chance draw. Prizes include cash, Chevrolet-branded merchandise prize packs, and the show-stopping grand prize 2021 Chevrolet Silverado® Trail Boss.
To 'drive' player awareness of the game, the Minnesota Lottery's multifaceted promotional campaign includes digital ads and social media posts, as well as a variety of promotional display items to raise the ticket's visibility at retail.   
"We are pleased with the initial sales of our new Chevrolet Silverado® instant ticket," said Adam Prock, Executive Director, Minnesota Lottery. "We focus on providing our players with games that delight and engage, along with the chance to win exciting prizes, and this game delivers on all aspects."
"Pollard Banknote congratulates the Minnesota Lottery on the outstanding success of its Chevrolet Silverado® instant ticket," said Brad Thompson, Vice President of Sales and Marketing, Pollard Banknote. "The brand's enduring popularity lends itself to exciting prizing and promotional options, which the Lottery has fully leveraged. We look forward to our continuing work with the Minnesota Lottery on creating new games and promotions that players will love."
About Minnesota Lottery
The Minnesota Lottery raises money for programs that positively impact the lives of Minnesotans. It offers uniquely Minnesotan games of chance that are held to the highest standard of integrity and security. Since 1990, the Lottery has returned more than $3.1 billion to programs that benefit all Minnesotans, including the state's most precious natural resources, education, health care and more.
About Chevrolet
Founded in 1911 in Detroit, Chevrolet is now one of the world's largest car brands, available in 79 countries with more than 3.2 million cars and trucks sold in 2020. Chevrolet models include electric and fuel-efficient vehicles that feature engaging performance, design that makes the heart beat, passive and active safety features and easy-to-use technology, all at a value. More information on Chevrolet models can be found at www.chevrolet.com.
FOR MORE INFORMATION, CONTACT:
Brad Thompson
Vice President, Sales & Marketing
Telephone: (204) 474-2323
E-mail: bthompson@pbl.ca