WINNIPEG, Manitoba, May 12, 2022 /CNW/ – Pollard Banknote Limited (TSX: PBL) ("Pollard Banknote") is pleased to announce that Hot Stuff, the nostalgic, devilish comic book character, has joined Pollard Banknote's portfolio of licensed games and is available for use on printed instant tickets.
First introduced in 1957 in comic books published by Harvey Comics and created by Warren Kremer, Hot Stuff is a little devil with a mischievous spirit who uses his powers for good. While this marks Hot Stuff's debut in the instant ticket category, the character is already well-established in the lottery/gaming space, having been adapted into an award-winning slots game that can be found in casinos throughout North America.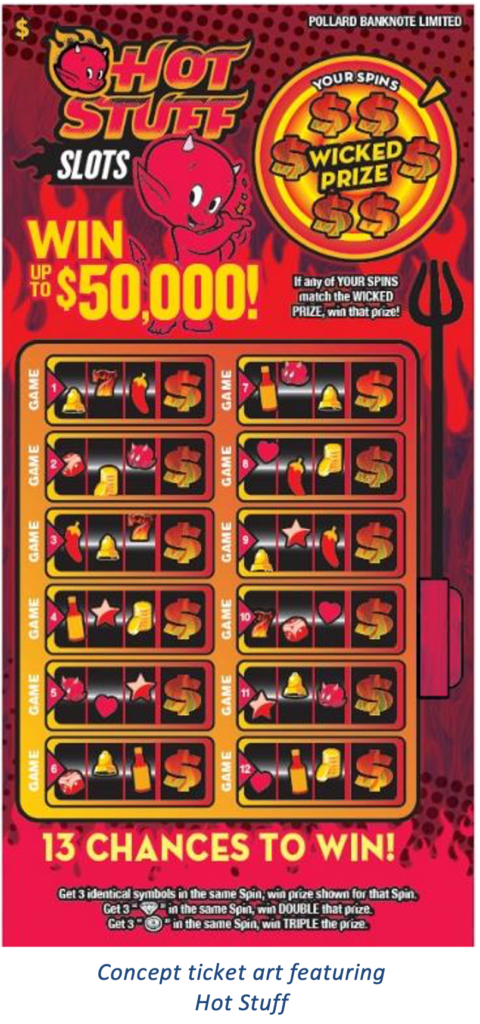 Instant tickets that incorporate the colorful Hot Stuff character, along with his magical pitchfork, will result in eye-catching art that evokes a sense of nostalgia among current and potential instant ticket players. This brand, along with its extensive library of graphic assets, fits perfectly with a number of themes such as casino/slots, Valentine's Day, and food. Hot Stuff, a fiery-red character with the power to produce fire, is especially suited to the 'hot/fire' theme which has proven its sales-driving impact in the instant ticket category. Since January 2019, more than 40 North American lotteries have launched over 200 instant games with this popular theme.
"Hot Stuff, the impish prankster from comic books, is a blast from the past that will appeal to a broad audience," explained Brad Thompson, Vice President, Sales & Marketing, Pollard Banknote. "This retro brand offers versatility across tried-and-true themes and opens the door to creating whimsical and visually striking ticket art that will command attention at retail, making it an ideal licensed property for instant games."
To support strong sales and engagement, Pollard Banknote's Licensed Games team offers lotteries a comprehensive turnkey program that includes the design, programming, and printing of themed tickets, as well as various optional enhancements such as second chance draws, merchandise prizing, experiential prizing, POS programs, and digital marketing.
© Universal City Studios LLC. All Rights Reserved.
About Pollard Banknote
Pollard Banknote is a leading lottery partner to more than 60 lotteries worldwide, providing high quality instant ticket products, licensed games, in-lane ticket options, and sales-driving merchandising solutions from its Schafer Retail Solutions + portfolio. It also offers a full suite of digital offerings, ranging from world-class game apps to comprehensive player engagement and iLottery solutions, including strategic marketing and management services. The company is a proven innovator and has decades of experience helping lotteries to maximize player engagement, sales, and proceeds for good causes. Pollard Banknote also provides pull-tab tickets, bingo paper, ticket vending machines, and its Diamond Game and Compliant Gaming electronic games and devices to charitable and other gaming markets in North America. Established in 1907, Pollard Banknote is owned approximately 64.3% by the Pollard family and 35.7% by public shareholders, and is publicly traded on the TSX (PBL). For more information, please visit our website at www.pollardbanknote.com.
Forward-looking Statements
Certain statements in this press release may constitute "forward-looking" statements and information, which involve known and unknown risks, uncertainties, and other factors that may cause actual results, performance, or achievements to be materially different from any future results, performance, or achievements expressed or implied by such forward-looking statements. When used in this document, such statements include such words as "may," "will," "expect," "believe," "plan," and other similar terminology. These statements reflect management's current expectations regarding future events and operating performance and speak only as of the date of this document. There should not be an expectation that such information will in all circumstances be updated, supplemented, or revised whether as a result of new information, changing circumstances, future events, or otherwise.
-30-
FOR MORE INFORMATION CONTACT:
Pollard Banknote Limited
Telephone: (204)-474-2323