WINNIPEG, Manitoba, September 12, 2022 /CNW/ – Pollard Banknote Limited (TSX: PBL) ("Pollard Banknote") congratulates the Nebraska Lottery on the launch of Universal Monsters, becoming the first lottery to use the classic film characters on a scratch ticket. Launching today, the tickets feature Frankenstein, The Wolf Man, Dracula, Bride of Frankenstein, Creature from the Black Lagoon, and The Mummy, which are sure to thrill Nebraskans across the state.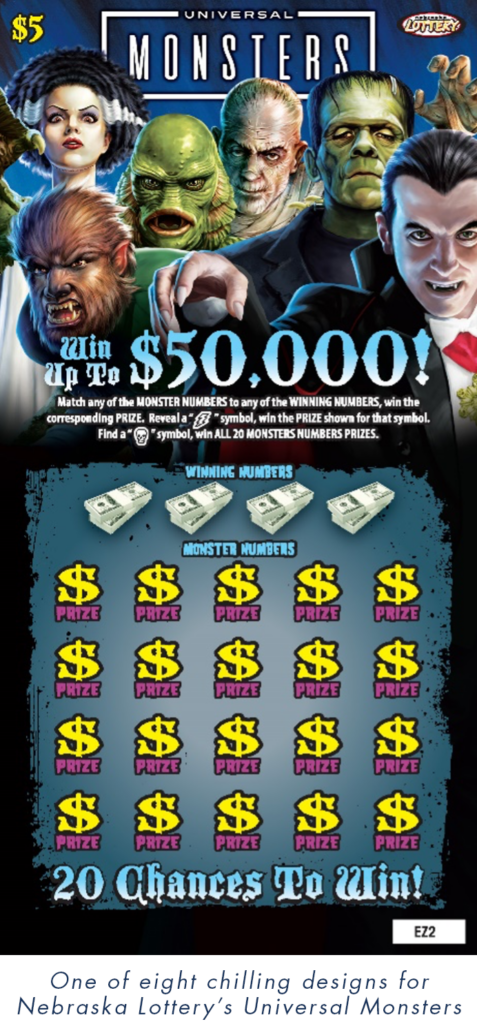 Universal Monsters are horror movie stars, making them the perfect game characters for the Halloween season. Designed by Pollard Banknote, the $5 game has a top prize of $50,000, utilizing the ever-popular key number match play style to offer players 20 chances to win. To capitalize on the spooky season, the game features eight different designs, enhancing the game's retail profile and inspiring players to collect them all.
The frighteningly fun game will be supported by a 30-second digital video jointly produced by Pollard Banknote and the Nebraska Lottery and featured on the Lottery's social media platforms and retailer screens. In addition, the Lottery, through its social media accounts, will highlight this beloved and widely recognized cast of characters throughout the fall.
"The Nebraska Lottery is constantly looking for entertaining new games and Universal Monsters represented an excellent opportunity to introduce some seasonal fun into the portfolio," said Brian Rockey, Director, Nebraska Lottery. "Today's launch is a truly original scratch experience we believe our players are sure to enjoy."
"We were delighted to partner with the Nebraska Lottery to bring Universal's iconic characters to life for the first time ever in scratch ticket form," said Brad Thompson, Vice President, Sales & Marketing, Pollard Banknote. "These spine-tingling characters have nostalgic appeal that spans generations. We're confident that these games will provide Nebraskans with scary good fun."
© Universal City Studios LLC. All Rights Reserved.
About Nebraska Lottery
The mission of the Nebraska Lottery is to generate proceeds for good causes while providing quality entertainment options to Nebraskans. Over $880 million has been raised for the Nebraska Lottery's beneficiary funds since the Lottery began in 1993. All 93 counties in Nebraska have benefited from projects funded with these Nebraska Lottery proceeds. Please visit www.nelottery.com for more information.
About Universal Monsters
Over 75 years ago, Universal Pictures introduced the public to some of the most iconic horror characters in cinematic history that would live on in pop-culture for decades to come. Now known as Universal Monsters, these larger-than-life creatures, including Dracula, Frankenstein, and The Wolf Man, continue to haunt our nightmares today.
About Pollard Banknote
Pollard Banknote is a leading lottery partner to more than 60 lotteries worldwide, providing high quality instant ticket products, licensed games, in-lane ticket options, and sales-driving merchandising solutions from its Schafer Retail Solutions + portfolio. It also offers a full suite of digital offerings, ranging from world-class game apps to comprehensive player engagement and iLottery solutions, including strategic marketing and management services. The company is a proven innovator and has decades of experience helping lotteries to maximize player engagement, sales, and proceeds for good causes. Pollard Banknote also provides pull-tab tickets, bingo paper, ticket vending machines, and its Diamond Game and Compliant Gaming electronic games and devices to charitable and other gaming markets in North America. Established in 1907, Pollard Banknote is owned approximately 64.3% by the Pollard family and 35.7% by public shareholders, and is publicly traded on the TSX (PBL). For more information, please visit our website at www.pollardbanknote.com.
Forward-looking Statements
Certain statements in this press release may constitute "forward-looking" statements and information, which involve known and unknown risks, uncertainties, and other factors that may cause actual results, performance, or achievements to be materially different from any future results, performance, or achievements expressed or implied by such forward-looking statements. When used in this document, such statements include such words as "may," "will," "expect," "believe," "plan," and other similar terminology. These statements reflect management's current expectations regarding future events and operating performance and speak only as of the date of this document. There should not be an expectation that such information will in all circumstances be updated, supplemented, or revised whether as a result of new information, changing circumstances, future events, or otherwise.
-30-
FOR MORE INFORMATION CONTACT:
Pollard Banknote Limited
Telephone: (204)-474-2323