WINNIPEG, Manitoba, June 5, 2023 /CNW/ – Pollard Banknote Limited ("Pollard Banknote"; TSX: PBL) congratulates the British Columbia Lottery Corporation ("BCLC") on the launch of Ticket to Ride, the lottery industry's first-ever instant ticket based on Days of Wonder's Ticket to Ride™, an acclaimed board game in which players compete to claim routes, connect cities, and build the longest rail line. Featuring a top prize of $50,000 and a wild card bonus, BCLC players are on the fast track to experience all the fun of the award-winning board game in an entertaining new way.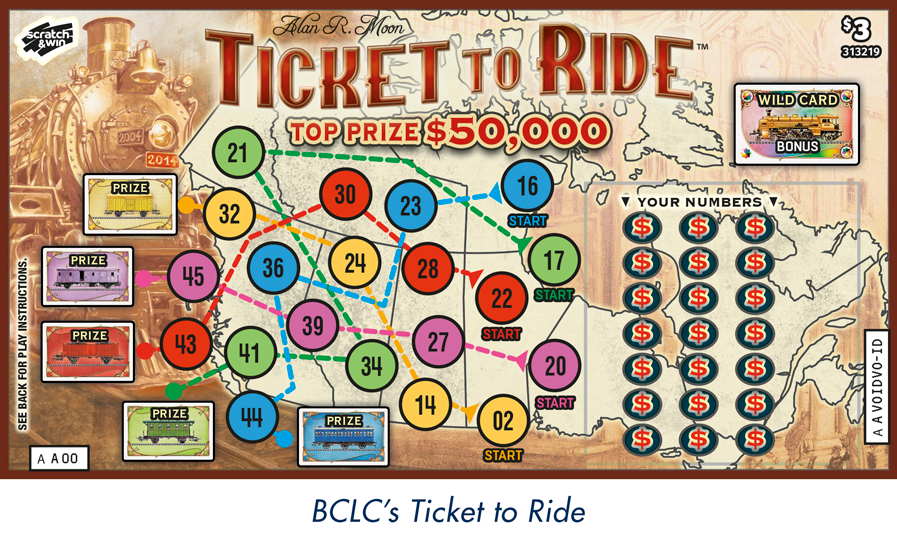 As summer travel plans kick into gear, the $3 ticket takes British Columbians on a trip across Canada with colourful, Pollard Banknote-designed artwork that echoes the look and feel of the board game. Leveraging the ever-popular lucky lines play mechanic, players embark on a cross-country adventure to reveal all four numbers within the same-coloured rail line. A wild card bonus provides players with an extra chance to hop aboard for a cash prize. The Ticket to Ride™ board gamerocketed to fame after winning the prestigious Spiel des Jahres prize in 2004 and has sold over 10 million copies in more than 50 countries worldwide.
The inaugural instant ticket launch features an integrated and multi-faceted marketing program supported by Pollard Banknote, which includes an engaging social media campaign and the production of a how-to-play video for BCLC's website.
"We are delighted to offer British Columbians a brand new way to experience the fun and the spirit of Ticket to Ride™ this summer," said Erin Neoh, Senior Product Specialist, Instant Games, BCLC. "Collaborating with Pollard Banknote has resulted in a great new game that will provide our players with many moments of excitement and adventure, and is a welcome addition to our Scratch & Win portfolio."
"We congratulate BCLC on being the first to market with its exciting new Ticket to Ride Scratch & Win game," said Brad Thompson, Vice President, Sales & Marketing, Pollard Banknote. "Our licensed portfolio features many established game brands, such as Ticket to Ride™, which translate seamlessly into engaging instant tickets for all types of players. We're confident that British Columbians will embrace the thrill of this exciting new game."
The Province of British Columbia founded BCLC in 1985 with the purpose of giving back to the citizens of B.C. and helping communities grow. Since then, BCLC has delivered more than $28 billion in net income to support communities, provincial programs and services, charities, and major events that have helped shape B.C.
© 2023 Days of Wonder. Ticket to Ride and the Days of Wonder logos are trademarks of Days of Wonder. All Rights Reserved.
About Pollard Banknote
Pollard Banknote is a leading lottery partner to more than 60 lotteries worldwide, providing high-quality instant ticket products, licensed games, in-lane ticket options, and sales-driving merchandising solutions from its Schafer Retail Solutions + portfolio. It also offers a full suite of digital offerings, ranging from world-class game apps to comprehensive player engagement and iLottery solutions, including strategic marketing and management services. The company is a proven innovator and has decades of experience helping lotteries to maximize player engagement, sales, and proceeds for good causes. Pollard Banknote also provides pull-tab tickets, bingo paper, ticket vending machines, and its Diamond Game and Compliant Gaming electronic games and devices to charitable and other gaming markets in North America. Established in 1907, Pollard Banknote is owned approximately 64.3% by the Pollard family and 35.7% by public shareholders, and is publicly traded on the Toronto Stock Exchange (TSX: PBL). For more information, please visit our website at www.pollardbanknote.com.
About Days of Wonder
Days of Wonder develops and publishes unique games in their genre. The company's "Play Different" slogan reflects its vision of publishing: Days of Wonder limits its productions to very few new games, focusing on quality rather than quantity, and developing highly refined digital adaptations. The unparalleled successes—such as Ticket to Ride®, the world's best-selling train game; Small World® and its epic conquests in a fantastic universe; and Memoir '44®, the World War II reference game with over twenty expansions—motivate Days of Wonder to raise the bar ever higher. Days of Wonder board games are distributed in 40 countries and their digital versions are available on the App Store, Google Play, Steam, and the Days of Wonder website at www.daysofwonder.com.
About Asmodee Entertainment
Asmodee Entertainment is the outbound licensing and book publishing platform of Asmodee, the global games publisher and distributor. Its mission is to extend Asmodee's intellectual properties into TV/film, novels and comics, location-based entertainment, and consumer products, working closely with Asmodee Boardgames and Asmodee Digital. Through best-in-class partnerships across the full spectrum of opportunities, Asmodee Entertainment will create truly global intellectual properties and brands. For more information visit asmodee-entertainment.biz.
Forward-looking Statements
Certain statements in this press release may constitute "forward-looking" statements and information, which involve known and unknown risks, uncertainties, and other factors that may cause actual results, performance, or achievements to be materially different from any future results, performance, or achievements expressed or implied by such forward-looking statements. When used in this document, such statements include such words as "may," "will," "expect," "believe," "plan," and other similar terminology. These statements reflect management's current expectations regarding future events and operating performance and speak only as of the date of this document. There should not be an expectation that such information will in all circumstances be updated, supplemented, or revised whether as a result of new information, changing circumstances, future events, or otherwise.
-30-
FOR MORE INFORMATION CONTACT:
Pollard Banknote Limited
Telephone: (204) 474-2323