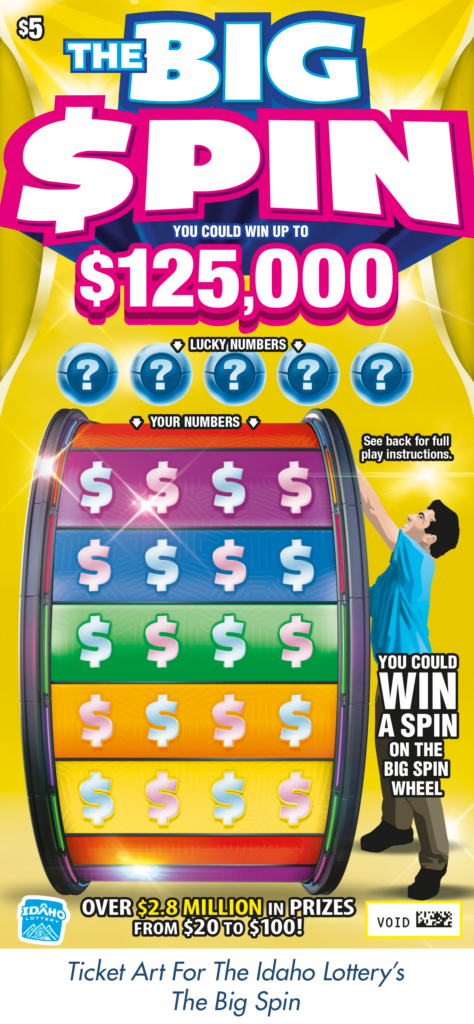 WINNIPEG, Manitoba, October 17, 2023 /CNW/ – Pollard Banknote Limited ("Pollard Banknote"; TSX: PBL) is pleased to congratulate the Idaho Lottery ("the Lottery") on a record-breaking fiscal year 2023 ("FY 2023"). For the first time ever, Lottery revenues surpassed $422 million, resulting in an all-time high dividend of $82 million to support public education and the State's Permanent Building Fund. As a proud partner to the Lottery since 2013 and its current primary Scratch Ticket printer, Pollard Banknote has worked closely with the Lottery to diversify its portfolio, resulting in a variety of creative games designed to entertain players in new and innovative ways.
This record-breaking year had numerous highlights, including the Idaho Lottery debut of The Big Spin, which offered players a highly engaging experience with multiple ways to win, including the chance to win a spin on the Big Wheel for a grand prize of $125,000. The game has been launched three times and continues to rank among the Lottery's top performers, selling 68% better than all other $5 games launched since 2020. In another "first", Idaho became the first U.S. lottery to launch a game printed on Pollard Banknote's new digital press with the multi-scene, Valentine's Day-themed Sweethearts. The digital press allowed each ticket to include one of 20 different sayings lifted right from the classic candy—from "Be Mine" to "Cutie Pie!" This year also marked the 12th launch of the Lottery's Limited series. Introduced in 2017 after Pollard Banknote recommended launching an exclusive prize level game, Limited's continual success has made it a regular feature of the Lottery's Scratch Ticket portfolio.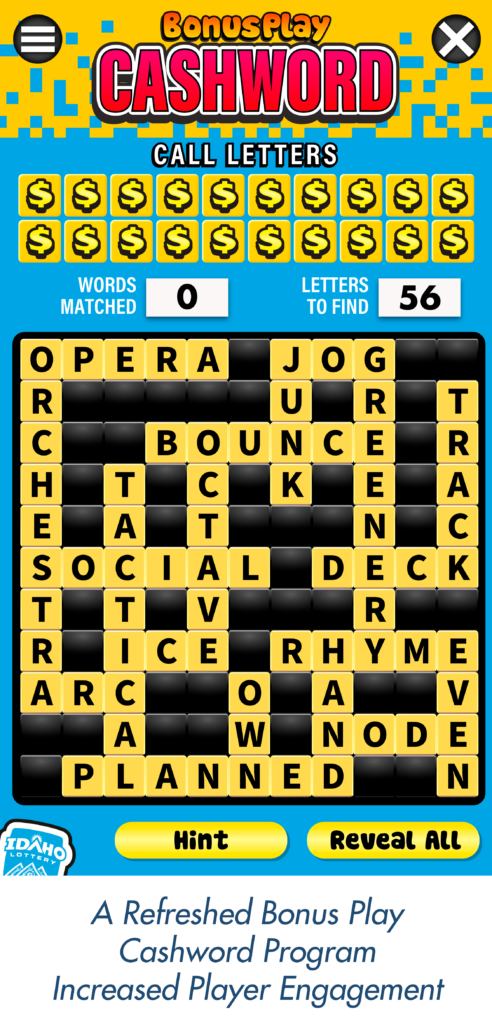 Building on the success of its first $50 game, Mega Bucks, which sold 21% better than comparable tickets based on the first 10 weeks of sales after its launch in late FY 2022, the Lottery expanded its portfolio with two additional Scratch games at the price point, including Max-A-Million and Big Money. The Lottery also worked closely with Pollard Banknote to refresh and relaunch its Bonus Play Cashword 2nd chance program, including a brand-new bonus game and broadening the scope of the program to include all Cashword tickets. Previously, Bonus Play Cashword entries were only available on the $3 ticket. The enhanced program has resulted in triple-digit increases in app and website usage, ticket entries, and games played, elevating player engagement to a new level for the Lottery.
"The Idaho Lottery had the most successful year in our 34-year history. Pollard Banknote is instrumental in collaborating to bring many creative and entertaining Scratch Games to life for our players to enjoy. The entire team at Pollard Banknote are valued business partners," said Jeff Anderson, Idaho Lottery Director. "Game success transforms lottery fun into profound benefits for Idaho communities, especially our primary beneficiaries, Idaho public schools and permanent buildings."
"The Lottery's innovative spirit, player-centric focus, and holistic approach to portfolio development are key ingredients to its success," said Byron Peterson, Senior Director, Sales & Marketing, Pollard Banknote. "We are immensely proud of our contributions to the Lottery's record-breaking performance and we look forward to the exciting year ahead."
The Idaho Lottery responsibly provides a variety of entertaining games featuring Powerball®, Mega Millions®, Scratch Games™, and PullTabs with a high degree of integrity to maximize the dividend for Idaho public schools and the permanent building fund. Since their inception in 1989, the Idaho Lottery has sold over $5.4 billion in products, awarded more than $3.1 billion in prizes to players, returned $317 million in retail commissions, and distributed $1.189 billion in Lottery dividends to Idaho public schools and buildings. To learn more, please visit www.idaholottery.com.
About Pollard Banknote
Pollard Banknote is a leading lottery partner to more than 60 lotteries worldwide, providing high-quality instant ticket products, licensed games, in-lane ticket options, and sales-driving merchandising solutions from its Schafer Retail Solutions + portfolio. It also offers a full suite of digital offerings, ranging from world-class game apps to comprehensive player engagement and iLottery solutions, including strategic marketing and management services. The company is a proven innovator and has decades of experience helping lotteries to maximize player engagement, sales, and proceeds for good causes. Pollard Banknote also provides pull-tab tickets, bingo paper, ticket vending machines, and its Diamond Game and Compliant Gaming electronic games and devices to charitable and other gaming markets in North America. Established in 1907, Pollard Banknote is owned approximately 64.2% by the Pollard family and 35.8% by public shareholders, and is publicly traded on the Toronto Stock Exchange (TSX: PBL). For more information, please visit our website at www.pollardbanknote.com.
Forward-looking Statements
Certain statements in this press release may constitute "forward-looking" statements and information, which involve known and unknown risks, uncertainties, and other factors that may cause actual results, performance, or achievements to be materially different from any future results, performance, or achievements expressed or implied by such forward-looking statements. When used in this document, such statements include such words as "may," "will," "expect," "believe," "plan," and other similar terminology. These statements reflect management's current expectations regarding future events and operating performance and speak only as of the date of this document. There should not be an expectation that such information will in all circumstances be updated, supplemented, or revised whether as a result of new information, changing circumstances, future events, or otherwise.
-30-
FOR MORE INFORMATION CONTACT:
Pollard Banknote
Telephone: (204)-474-2323