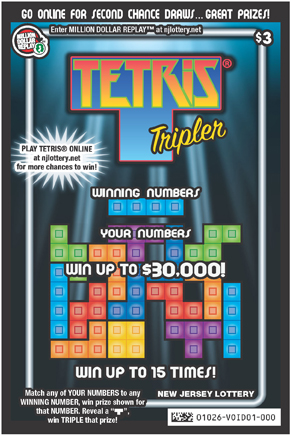 WINNIPEG, Manitoba, August 9, 2011 /CNW/ – Pollard Banknote Limited (TSX: PBL) (Pollard Banknote), a global leader in the production and merchandising of instant lottery tickets, along with the New Jersey Lottery, one of North America's leading lotteries, and The Tetris Company have teamed up to launch a Tetris® themed instant lottery ticket. The New Jersey lottery is giving purchasers more chances to win with a fully-integrated promotional program.

Launched on August 1, 2011, the New Jersey Lottery's $3 Tetris Tripler game offers players 15 chances to win up to $30,000 instantly and the opportunity to enroll in 10 second chance drawings by visiting the New Jersey Lottery's website. Second chance prizing features compelling merchandise such as Apple® iPads®, iPods®, and Apple® Store gift cards.

The Tetris game is one of the most popular casual video games of all time with more than 132 million paid mobile downloads worldwide and has been published on over 50 different platforms. Loved by all ages and cultures, no other game has demonstrated the longevity and universal appeal like the Tetris game. Since the game's creation over 27 years ago, the Tetris brand has expanded into merchandise licensing with products ranging from clothing, wall graphics, tabletop games to lottery tickets.

"Tetris puts the pieces in place. Now with the Tetris Tripler instant ticket game, we're expanding our brand into new outlets by popular demand," says Henk Rogers, Managing Director of The Tetris Company.

Pollard Banknote will support the New Jersey Lottery's Tetris Tripler instant ticket program with coordinated digital marketing services, including animated web ads, a web-based micro-site with interactive Tetris game play, and a second chance contest draw platform. Point-of-sale merchandising support will also be provided to the Lottery's retailers.

"Just like the New Jersey Lottery, lotteries all over the world will now have the ability to market a universally recognized and loved game that spans all backgrounds and generations," says Sina Aiello, Vice President, Licensed Products, Pollard Banknote. "We are pleased to offer our clients an exciting array of compelling internet resources, promotional campaigns, and second chance draw options that maximize the allure and recognition of Tetris."

Pollard Banknote's Licensed Products Division offers a turnkey integrated marketing support solution for the success of licensed games, including online focus testing, ticket design, prize structure consultation, online contests, interactive games, second chance draws, special event and street team management, digital and social media campaigns, point-of-sale merchandising support, and in-depth post-game analysis.

About the Tetris® Brand
The Tetris® brand is one of the leading and most distinctive video game brands and franchises in the world. In the game's 25+-year history, hundreds of millions of players have experienced the Tetris Effect. Tetris has reached over 132 million paid mobile downloads. Loved globally by people of all ages and all cultures, the Tetris game continues to be one of the most widely recognized video games of all time. Tetris Holding, LLC is the owner of Tetris rights worldwide and The Tetris Company, LLC is its exclusive licensee. The Tetris Company, through its agent Blue Planet Software, Inc., licenses and manages the Tetris intellectual property and franchise worldwide. Today, Blue Planet Software continues to work with licensees to deliver top quality Tetris products that are relevant, fun and challenging for its millions of players. For the latest information about the Tetris brand and Tetris products, please visit http://www.Tetris.com.
About Pollard Banknote Limited
Pollard Banknote Limited is one of the world's leading full-service lottery vendors and is a major supplier to North America's charitable gaming industry. The company manufactures instant tickets and provides related programming, design, and marketing support. As well, Pollard Banknote manufactures pull tab tickets and bingo paper, and supplies lottery management services (including warehousing and distribution). Established in 1907, Pollard Banknote is owned approximately 73.5% by the Pollard family and 26.5% by public shareholders and currently serves more than 50 lotteries worldwide, including some of the largest and most respected lotteries in the United States, Canada, Europe, Asia, and Central and South America.
Forward-looking Statements
Certain statements in this press release may constitute "forward-looking" statements and information which involve known and unknown risks, uncertainties, and other factors which may cause actual results, performance, or achievements to be materially different from any future results, performance, or achievements expressed or implied by such forward-looking statements. When used in this document, such statements include such words as "may," "will," "expect," "believe," "plan," and other similar terminology. These statements reflect management's current expectations regarding future events and operating performance and speak only as of the date of this document. There should not be an expectation that such information will in all circumstances be updated, supplemented, or revised whether as a result of new information, changing circumstances, future events, or otherwise.

FOR MORE INFORMATION CONTACT:
Sina Aiello  (saiello@pbl.ca)
Vice President, Licensed Products, Pollard Banknote
Phone: (204) 474-2323
Facsimile: (204) 453-1375

Rob Rose  (rrose@pbl.ca)
Chief Financial Officer, Pollard Banknote
Phone: (204) 474-2323
Facsimile: (204) 453-1375
Monica Caires
Grayling Connecting Point for the Tetris® Brand
Phone: (415) 442-4027
monica.caires@graylingcp.com