WINNIPEG, Manitoba, August 15, 2011 /CNW/
– Pollard Banknote Limited (TSX: PBL) (Pollard Banknote) announces the remarkable sales results of its Frogger® license in British Columbia where the British Columbia Lottery Corporation's (BCLC) Frogger® multiscene instant ticket made a noticeably loud splash after hitting retail outlets in mid-May. Seven hundred and fifty thousand tickets were snatched up in nine weeks, setting a new sales record for BCLC's $3 category.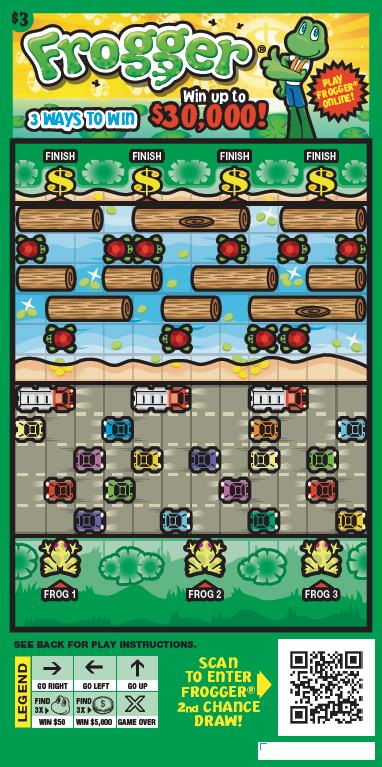 "$3 Frogger® has been a huge success for BCLC. Aside from notably high sales in our first four weeks in market, $3 Frogger® has been our fastest 100% sell-through to date. Based on the success of this ticket, we've already placed a re-order," stated BCLC's Heather Tryon, Brand Manager, Instant Games. What's most extraordinary is the fact that $3 Frogger® was launched without any additional promotional support.
"Frogger is one of KONAMI's most famed and cherished franchises and we couldn't have been happier with the outcome of the Pollard Banknote and BCLC's Frogger® multiscene instant ticket" said Careen Yapp, Vice President of Acquisitions and Franchise Development at Konami Digital Entertainment, Inc. "The unique and creative design of the ticket incorporates the Frogger brand in such a compelling and memorable way and provides an interactive feel to the Lottery experience."
As it was in 1981, the retro-chic Frogger is still popular, strengthened by its ongoing presence in pop culture all around the globe. Today, the game's availability as a Smartphone app and on today's most popular gaming systems speaks to its lasting brand awareness and on-going status as one of the most loved arcade videogames.
With a range of interactive components, merchandise fulfillment, and promotional opportunities, the value of the Frogger® brand has never been greater. 2011 marks the 30th anniversary of Frogger®, and many marketing initiatives are planned to celebrate, including the release of new Frogger® games for major handheld consoles, smartphones and tablets; consumer event appearances, and much more!
"The success of Frogger® in British Columbia is testament to the equity this brand has built and maintained over the past 30 years. Pollard Banknote's integrated marketing support program, including interactive Frogger® plug-ins, is available to extend the life of the instant game, attracting the emerging market, and drive traffic to Lottery websites. Just as our friends at BCLC, we're really excited about the impact this license can have on sales," said Sina Aiello, Vice President, Licensed Products, Pollard Banknote.
Pollard Banknote offers a turnkey integrated marketing support solution for the success of licensed games, including online focus testing, ticket design, prize structure consultation, online contests, interactive games, second chance draws, special event and street team management, digital and social media campaigns, point-of-sale support and in-depth post-game analysis.
FOR MORE INFORMATION CONTACT:


Sina Aiello (saiello@pbl.ca)
Vice President, Licensed Products
Phone: (204) 474-2323