WINNIPEG, Manitoba, January 21, 2015 /CNW/ – Pollard Banknote Limited
(TSX: PBL) ("Pollard Banknote") is pleased to announce that Mifal Hapayis, Israel's national lottery, is the first lottery in the world to launch a Pop-Up Scratch-Off instant game, a Pollard Banknote innovation. Hanukkah, named for the Jewish Festival of Lights, launched in early December at the 10 Israeli New Shekels (NIS) price point (approximately $2.55 USD). The ticket is printed on foil stock and features an image of a brightly lit menorah, giving it a festive feel that conveys the message, "Happy Hanukkah."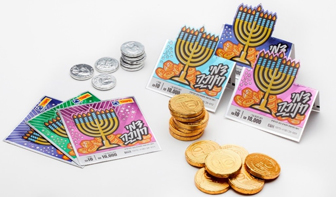 Pollard Banknote's Pop-Up Scratch-Off adds an exciting new feature to a standard two-dimensional instant ticket. With its unique use of die-cutting and scoring processes, one simple fold transforms a conventional scratch ticket into a pop-up place card. Hanukkah Pop-Up Scratch-Off instant tickets are great for welcoming family and friends to Hanukkah dinner—and treating guests with an entertaining chance to win up to 10,000 NIS!
"Hanukkah is a perfect tie-in for Pollard Banknote's Pop-Up Scratch-Off product," said Nancy Bettcher, Vice President, Product Innovation & Development, Pollard Banknote. "Pop-Up Scratch-Off tickets placed around a dinner table add a fun, exciting element to any celebration or gathering. This product is among Pollard Banknote's growing range of innovative offerings that help lotteries raise revenues to support good causes."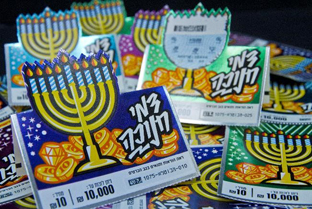 "Since 2002, Pollard Banknote has contributed insight, knowledge, and experience to bring new instant ticket concepts to Israel's lottery players, with the Hanukkah ticket being the most recent one," commented Avi Levy, Mifal Hapayis' Instant Tickets Marketing Director. "The Hanukkah instant ticket complements a great Hanukkah meal and wonderful company. Everyone likes to receive money as a gift, and with this new game, some dinner guests will be pleasantly surprised with a winning card. This new concept has piqued players' interest and retail sales have been impressive. This game's four-week average sales are 11% higher than other 10 NIS games."
Mifal Hapayis was founded in 1951 as a revenue source for healthcare initiatives. Today, the Lottery supports various good causes, including education, health, social services, community sports, culture, the environment, and the arts. In total, Mifal Hapayis has raised over 23 billion NIS to support Israeli good causes.