WINNIPEG, Manitoba, May 1, 2015 /CNW/ – Pollard Banknote Limited
(TSX: PBL) ("Pollard Banknote") is pleased to announce the Texas Lottery
®
's introduction of a $2 Tetris
®
instant ticket and upcoming official launch event. Available at Texas Lottery retailers since March 16, 2015, Tetris tickets—exclusive to Pollard Banknote's licensed game portfolio—is already proving itself a perfect fit for Lone Star State lottery players. After only four weeks, 37% of the tickets have been sold!
The Texas Lottery's Tetris ticket offers more than $11.5 million in prizes, and players who do not win instantly can enter online for a chance to win one of 800 merchandise prize packages.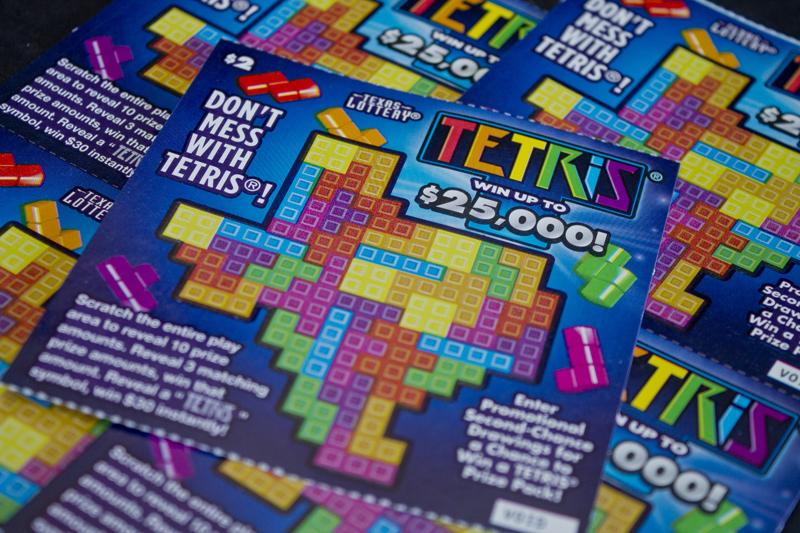 The Texas Lottery and Pollard Banknote worked with The Tetris Company to develop a ticket and merchandise program customized specifically for the Texas market. The ticket art captures the iconic elements of the Tetris game but with a twist—the famous Tetrimino playing pieces have been used to create a Texas-shaped grid!
A key building block of a great Tetris program is a larger-than-life launch event. To promote this Tetris ticket, the Texas Lottery will be participating in the annual Cinco de Mayo celebrations at Market Square in San Antonio. On Saturday, May 2, the Texas Lottery's booth will be a must-see kiosk for festival-goers who can stop by to play a jumbo version of Tetris Blitz, the lightning fast Tetris mobile game by Electronic Arts, live on an LED wall that is over 20 feet high! Thousands of visitors walking through Market Square will see the oversized game in action. The Texas Lottery's team will be giving attendees a chance to spin a prize wheel and win, and a roaming Tetrimino-topped team will be sharing information about the Tetris instant ticket and Tetris Blitz mobile game.
The Texas Lottery's Tetris program is further supported by a social media campaign that engages Texas Lottery fans on Facebook, Instagram, and Twitter. For instance, Texas Lottery followers on Instagram were invited to answer trivia questions for a chance to win Tetris prize packs.
"Tetris is a phenomenon now celebrating 30 years as one of the leading and most distinctive video game brands in the world. The Texas Lottery selected this iconic game for its broad appeal; it simply transcends age, culture, and language," said Gary Grief, Executive Director, Texas Lottery.
"We are confident that, together with the Texas Lottery, we have developed a marketing program to support the launch of the Tetris instant ticket that will engage Texans on a wide scale," explained Sina Aiello, Vice President, Marketing, Pollard Banknote. "The excitement of the live event combined with the strong brand equity of the Tetris brand is expected to create excitement and increase awareness and sales of the instant ticket."
The Texas Lottery is committed to generating revenue for the State of Texas through the responsible management and sale of entertaining lottery products while incorporating the highest standards of security and integrity. Since 1997, the Texas Lottery has contributed more than $17 billion to the Foundation School Fund to support public education in Texas, with over $1.2 billion contributed in fiscal year 2014. Since fiscal year 2010, a portion of Texas Lottery proceeds has also benefitted the Fund for Veterans' Assistance.
About the Tetris® Brand
The Tetris
®
brand is one of the leading and most distinctive video game brands and franchises in the world with over 525 million paid mobile downloads, and billions of games played online per year. In the game's 30+ year history, hundreds of millions of players have experienced the Tetris Effect. Tetris is loved globally by people of all ages and all cultures. Working with Electronic Arts, Ubisoft, Sega, and Hasbro, the Tetris game continues to be one of the most widely recognized video games of all time. Tetris Holding, LLC is the owner of Tetris rights worldwide and The Tetris Company, LLC is its exclusive licensee. For the latest information about the Tetris brand and Tetris products, please visit
www.tetris.com
.
FOR MORE INFORMATION, CONTACT: