WINNIPEG, Manitoba, August 23, 2016 /CNW/ – Pollard Banknote Limited
(TSX: PBL) ("Pollard Banknote") is excited to announce the launch of its latest innovative instant scratch product, Jumbo Pop 'n' Play™!
Pop open a Jumbo Pop 'n' Play™ ticket to reveal a jumbo spread of games, loaded with chances to win. The front panels can incorporate designs of doors or other fun themes that invite players to pop open a ticket and play. The only product of its kind, Jumbo Pop 'n' Play™ tickets are delivered in perforated, fanfolded books, which means they are compatible with widely-used, large-format dispensers.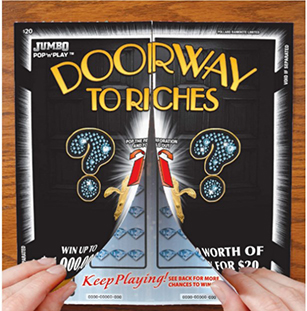 Offering maximum play value, Jumbo Pop 'n' Play™ follows in the footsteps of Pollard Banknote's other popular large-format products like PlayBook®, Big Ticket and Scratch Tab™. Our PlayBooks® are proven player favorites around the world, offering six pages of games in a booklet format. Similarly, Pollard Banknote's Big Tickets are designed to offer players a tremendous amount of play in the form of one giant ticket (measuring 8" wide x 8" long, or more). Scratch Tab™ tickets like Pollard Banknote's popular holiday countdown calendars keep things exciting by featuring scratch-off play areas under perforated "windows."
These innovative products have been helping lotteries grow sales at higher price points for years. For instance, more than 65 patented PlayBook® games launched around the world have generated approximately $1.7 billion USD in total retail sales.
Jumbo Pop 'n' Play™ takes the big ticket format even further, and is a perfect option for lotteries' highest price points—$20 and beyond. This folded ticket offers great flexibility in the number, size and positioning of play areas on a ticket—from filling the entire inside panel with play areas, to covering every surface (front, back and inside) for a maximum, jumbo play experience!
"Pollard Banknote's innovative Jumbo Pop 'n' Play™ tickets offer lotteries an exciting new option for higher price point games," said Nancy Bettcher, Vice President, Product Innovation & Development, Pollard Banknote. "Players expect a lot of game play from higher price points, and Jumbo Pop 'n' Play™ delivers big time. The size and value offered by this ticket concept will guarantee that games stand out at retail and provide lotteries with a great opportunity to continue to strengthen the $20+ offering, or introduce a large-format ticket to the market for the first time."