WINNIPEG, Manitoba, September 8, 2016 /CNW/ – Pollard Banknote Limited
(TSX: PBL) ("Pollard Banknote"), a leading lottery partner that provides instant tickets, interactive solutions, and marketing support, is excited to announce the addition of Zoltar®—the iconic fortune-telling arcade game—to its expanding portfolio of licensed brands. The company has signed an exclusive agreement with Characters Unlimited Inc., enabling it to offer Zoltar® to its lottery clients. The deal was brokered by Characters Unlimited, Inc. licensing agency, Firefly Brand Management.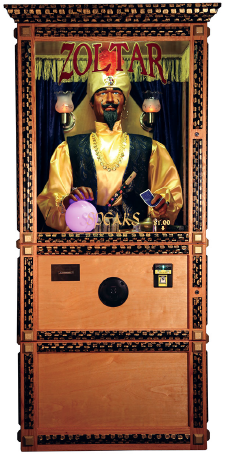 Zoltar® is the classic animatronic fortune-teller machine found in arcades, amusement parks and tourist areas around the world. The automated "wise gypsy" machine prints and reads a card bearing a prediction of the player's future or fortune and has been predicting the future for decades.
Since its initial spotlight in the movie Big, Zoltar® has remained relevant with appearances in many prominent television placements including Limitless and Family Guy, Big Brother UK and a recent Sprint commercial. The mysterious and serious Zoltar® has also become more social lately—when people get their fortunes told, they take a picture with Zoltar® and share with friends on social networks like Facebook and Instagram.
"Pollard Banknote is very excited to be able to offer the Zoltar® brand to our lottery clients," explained Sina Aiello, Pollard Banknote's Vice President, Marketing. "The themes of luck and fortune that are intrinsic to lotteries have a natural connection to the fortune-telling aspect of the Zoltar® brand. A Zoltar® instant game will attract a wide player base, and we are confident that lottery clients will have much luck and good fortune launching Zoltar® branded games."
Pollard Banknote's Licensed Products team offers a full turnkey program that includes the design, programming and printing of themed tickets, as well as various options such as second chance draws, a POS program, and broadcast and digital marketing.
About Characters Unlimited Inc.

Since 1987, Characters Unlimited has specialized in creating affordable, life-sized, animated and talking characters. Pollard Banknote's agreement with Characters Unlimited Inc. was brokered by Firefly Brand Management, a global business development company specializing in intellectual properties for entertainment and consumer product applications.
FOR MORE INFORMATION, CONTACT:
Sina Aiello
Vice President, Marketing
Telephone: (204) 474-2323
saiello@pbl.ca