WINNIPEG, Manitoba, September 8, 2016 /CNW/ – Pollard Banknote Limited (TSX: PBL) ("Pollard Banknote"), a leading lottery partner that provides instant tickets, interactive solutions, and marketing support, is excited to announce the addition of Zoltar®—the iconic fortune-telling arcade game—to its expanding portfolio of licensed brands. The company has signed an exclusive agreement with Characters Unlimited Inc., enabling it to offer Zoltar® to its lottery clients. The deal was brokered by Characters Unlimited, Inc. licensing agency, Firefly Brand Management.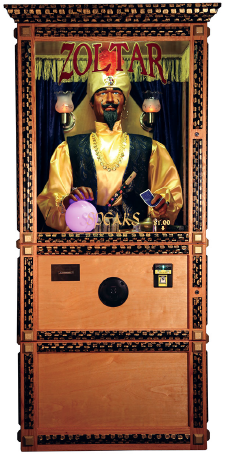 Zoltar® is the classic animatronic fortune-teller machine found in arcades, amusement parks and tourist areas around the world. The automated "wise gypsy" machine prints and reads a card bearing a prediction of the player's future or fortune and has been predicting the future for decades.

Since its initial spotlight in the movie Big, Zoltar® has remained relevant with appearances in many prominent television placements including Limitless and Family Guy, Big Brother UK and a recent Sprint commercial. The mysterious and serious Zoltar® has also become more social lately—when people get their fortunes told, they take a picture with Zoltar® and share with friends on social networks like Facebook and Instagram.

"Pollard Banknote is very excited to be able to offer the Zoltar® brand to our lottery clients," explained Sina Aiello, Pollard Banknote's Vice President, Marketing. "The themes of luck and fortune that are intrinsic to lotteries have a natural connection to the fortune-telling aspect of the Zoltar® brand. A Zoltar® instant game will attract a wide player base, and we are confident that lottery clients will have much luck and good fortune launching Zoltar® branded games."

Pollard Banknote's Licensed Products team offers a full turnkey program that includes the design, programming and printing of themed tickets, as well as various options such as second chance draws, a POS program, and broadcast and digital marketing.

About Characters Unlimited Inc.
Since 1987, Characters Unlimited has specialized in creating affordable, life-sized, animated and talking characters. Pollard Banknote's agreement with Characters Unlimited Inc. was brokered by Firefly Brand Management, a global business development company specializing in intellectual properties for entertainment and consumer product applications.
About Pollard Banknote
Pollard Banknote is a leading lottery partner to more than 60 lotteries worldwide, providing high quality instant ticket products, licensed games, and strategic marketing and management services for both traditional instant games and the emerging iLottery space of web, mobile, and social channels. The company is a proven innovator and has decades of experience helping lotteries to maximize player engagement, sales, and proceeds for good causes. Pollard Banknote also plays a major role in the charitable pull-tab and bingo markets in North America. Established in 1907, Pollard Banknote is owned approximately 73.5% by the Pollard family and 26.5% by public shareholders and is publicly traded on the TSX (PBL). For more information, please visit our website at www.pollardbanknote.com.
Forward-looking Statements
Certain statements in this press release may constitute "forward-looking" statements and information, which involve known and unknown risks, uncertainties, and other factors that may cause actual results, performance, or achievements to be materially different from any future results, performance, or achievements expressed or implied by such forward-looking statements. When used in this document, such statements include such words as "may," "will," "expect," "believe," "plan," and other similar terminology. These statements reflect management's current expectations regarding future events and operating performance and speak only as of the date of this document. There should not be an expectation that such information will in all circumstances be updated, supplemented, or revised whether as a result of new information, changing circumstances, future events, or otherwise.
-30-
FOR MORE INFORMATION, CONTACT:
Sina Aiello
Vice President, Marketing
E-mail: saiello@pbl.ca
Pollard Banknote Limited
Telephone: (204) 474-2323