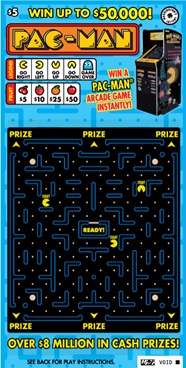 WINNIPEG, Manitoba, July 24, 2017 /CNW/
– Pollard Banknote Limited (TSX: PBL) ("Pollard Banknote") congratulates Washington's Lottery on the outstanding success of its $5 PAC-MAN® instant ticket. Launched on April 19, 2017, the game's 10-week average sales were 55% higher than the average 10-week sales of all other $5 games launched by the Lottery since 2014, confirming the enduring appeal of the PAC-MAN® brand.
The PAC-MAN® arcade game was an instant hit with players when it launched in North America in 1980, and the brightly-colored mascot quickly became one of the most iconic video game characters of all time. Combining the nostalgic flair of the video game with the proven high appeal of PAC-MAN® ticket designs, it is easy to see why sales are yielding 'a-maze-ing' results.
To increase awareness and engagement, the Lottery wrapped the exterior of a Washington State Transit Association train with PAC-MAN® instant ticket advertising, asking players to "nom-nom-nom your way to $50K." For maximum excitement, in addition to the chance of winning up to $50,000, the Lottery gave players the opportunity to instantly win one of four retro PAC-MAN® game consoles.
"In the first few weeks after launch, it became apparent the game would be a huge success," said Ron Smerer, Sales & Marketing Director, Washington's Lottery. "We work diligently to bring our players the best instant games that the industry has to offer and we look forward to continuing to work with Pollard Banknote to explore new, innovative, and fun instant game ideas and initiatives in the years to come."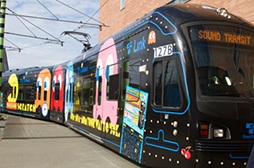 "The sales performance of the Lottery's PAC-MAN® game adds to the many North American success stories to date," said Sina Aiello, Vice President, Marketing at Pollard Banknote. "The powerful, well-recognized PAC-MAN® brand, with its familiar "arcade" theme and strong social presence, allows us to implement robust marketing campaigns that engage players and drive sales at retail."
Created in 1982, Washington's Lottery was established to generate revenues for state programs through the sale of lottery products. Presently, Washington's Lottery offers five draw games and various scratch games that are launched as frequently as once a month. The Washington Opportunity Pathways Account (WOPA) is the primary beneficiary of the Lottery. In 2016, it received $128.8 million in proceeds to support education programs and scholarships. The Lottery also makes contributions to stadium funding and problem gambling prevention and treatment.
PAC-MAN®&©BANDAI NAMCO Entertainment Inc.
FOR MORE INFORMATION, CONTACT:
Sina Aiello
Vice President, Marketing
Telephone: (204) 474-2323
saiello@pbl.ca