WINNIPEG, Manitoba, August 30, 2017 /CNW/
–
Pollard Banknote Limited
(TSX: PBL) ("Pollard Banknote") congratulates the Virginia Lottery on the successful launch of its $5
777
instant Scratcher ticket. Launched March 7, 2017, the ticket features Pollard Banknote's Spectrum Scratch FX® innovation.
777
is the Lottery's top-performing $5 Scratcher ticket since 2012, recording 10-week average sales that are 63% higher than that of the Lottery's average $5 game!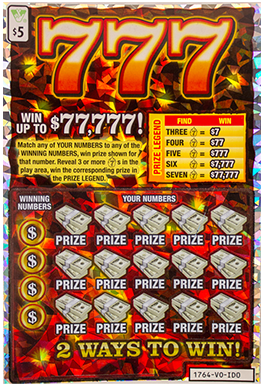 777
takes two popular themes—7s and money—to a new level with Pollard Banknote's Spectrum Scratch FX® and an exciting twist to the game's play mechanics.
This bold, red ticket turns up the heat with a blazing hot flame design that is enhanced with Spectrum Scratch FX®, marking the first time the Lottery has launched a ticket with this patented innovation. Spectrum Scratch FX® makes instant tickets sparkle and shine, creating a vibrancy that cuts through retail clutter.
777 offers players a familiar number match game, but with additional ways to win. Players that uncover three or more flaming 7s win the corresponding prize shown in the legend. Maximizing the lucky number 7 theme, prize amounts in the legend use only 7s, up to the top prize of $77,777.

"Pollard Banknote is excited to continue working with the Virginia Lottery to expand its instant game portfolio with the introduction of our Spectrum Scratch FX® innovation," said Byron Peterson, Director, Sales & Marketing, Pollard Banknote. "The suite of Scratch FX® options are all proven drivers of sales, and as the Lottery's primary supplier of instant products, we're happy to be able to offer the Lottery our continued support with new strategies and innovative products that help the Lottery drive sales in support of Virginia's public schools."

"Pollard Banknote's insight has helped us to achieve consecutive record-breaking years for Scratcher sales, with more than $1.1 billion worth of Scratchers sold in FY 2017," said Paula Otto, Executive Director of the Virginia Lottery. "The company continues to offer fresh new products, and their recommendations are helping us maximize proceeds that ultimately benefit education in the Commonwealth of Virginia."

About Virginia Lottery
When it comes to education, the Virginia Lottery is game. In fact, it's the reason we play. The Lottery generates more than $1.5 million per day for Virginia's K-12 public schools. Operating entirely on revenue from the sale of Lottery products, the Virginia Lottery generated more than a half-billion dollars for Virginia's public schools in Fiscal Year 2017. For more info, visit the Lottery's website, and connect on social media via Facebook, Twitter, Instagram, and YouTube. Please play responsibly.