WINNIPEG, Manitoba, September 8, 2017 /CNW/
– Pollard Banknote Limited (TSX: PBL) ("Pollard Banknote") a leading lottery partner that provides instant tickets, interactive solutions, and marketing support, announces the addition of Marilyn Monroe, one of the greatest icons of the 20th century and a Hollywood legend, to its expanding licensed games portfolio. Under the agreement with The Estate of Marilyn Monroe, Pollard Banknote now offers Marilyn Monroe branded instant tickets to lottery clients across North America.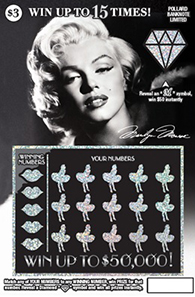 Marilyn Monroe rose to fame in the 1950s and 1960s, starring in 33 feature films and winning numerous awards including a Golden Globe for her brilliant comedic performance in Some Like it Hot. Today, Marilyn's unique blend of beauty, talent, humor, and style continue to inspire the world's top artists, designers, and social influencers. On June 1st, in celebration of Marilyn's Birthday, social media posts generated 150+ million impressions among brand partners, press, and fans alike.
Marilyn Monroe's popularity on social media is a testament to her timelessness. More than 15.8 million fans interact with the Marilyn Monroe brand via Facebook, Twitter, Instagram, and Pinterest. This strong presence adapts naturally into Pollard Banknote's lottery program, resulting in invaluable player engagement.
Marilyn's global brand awareness drives engagement—and introducing Marilyn Monroe™ to Pollard Banknote's suite of licensed brands provides an opportunity for lotteries to launch an exciting legacy brand that is top-of-mind with today's customers. Ticket designs are distinctly Marilyn, capturing her iconic look and commanding attention at retail. Diversifying licensed games portfolios with this strong female lead is sure to be a box-office smash with lotteries throughout North America.
"The aspirational essence of Marilyn Monroe lends itself perfectly to engaging and attractive ticket art and robust marketing programs," said Sina Aiello, Pollard Banknote's Vice President, Marketing. "This program offers exciting experiential elements that will maximize customer engagement and encourage repeat purchases."
FOR MORE INFORMATION, CONTACT:
Sina Aiello
Vice President, Marketing
Telephone: (204) 474-2323
saiello@pbl.ca