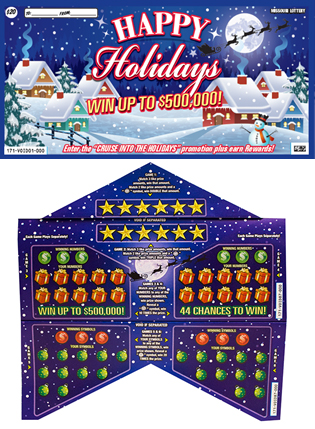 WINNIPEG, Manitoba, October 19, 2017 /CNW/ – Pollard Banknote Limited (TSX: PBL) ("Pollard Banknote") congratulates the Missouri Lottery on its new $20 holiday Scratchers ticket, Happy Holidays, the first-ever launch of Pollard Banknote's Pop 'n' Play™ innovation. Launched on October 6, 2017, the visually dramatic and festive Happy Holidays ticket features a creative design and unique folded format that lets players pop the ticket open to reveal six game play areas.

Happy Holidays offers the Lottery's players 44 chances to win with cash prizes of up to $500,000! Players can also enter their non-winning Happy Holidays tickets into the Lottery's second-chance promotion, "Cruise into the Holidays", for the opportunity to win the choice of either a cruise at one of three popular destinations, an in-state lake vacation, or $1,000 in cash.

Tickets featuring Pollard Banknote's Pop 'n' Play™ innovation are a perfect option for lotteries looking for new ways to entertain players. This ticket presents great flexibility in the number, size, and positioning of play areas, offering a variety of play formats and styles. In addition to the envelope format of Happy Holidays, Pop 'n' Play™ tickets can integrate other thematic designs, such as wallets and purses, inviting players to pop open a wealth of game play.

"We are very excited to launch our new $20 ticket, Happy Holidays," said May Scheve Reardon, Executive Director, Missouri Lottery. "As the first Lottery in the world to introduce this new folded format, we are confident that Happy Holidays will have strong appeal to a wide range of players. This unique game format with a fun pop-open concept and gift-giving feature is aligned with the Lottery's goal of marketing and distributing fun and entertaining products, and it demonstrates our commitment to offering players the most innovative products available today."

"We are pleased to see the first launch of Pollard Banknote's innovative Pop 'n' Play™ product with the Missouri Lottery's festive Happy Holidays Scratchers ticket," said Nancy Bettcher, Vice President, Product Innovation & Development, Pollard Banknote. "Players expect extra game play from higher price points, and the Lottery delivers extra value with this ticket. The size, value, and playful pop-open concept will appeal to players over the holidays, and gives the Lottery a great opportunity to attract new players through gifting."

More than 95 cents of every dollar spent on the Lottery benefits Missouri. Since sales started in 1986, the Missouri Lottery has generated more than $5.8 billion for the state and public education. In fiscal year 2016, the Lottery generated more than $308.9 million for vital education programs.
About Pollard Banknote
Pollard Banknote is a leading lottery partner to more than 60 lotteries worldwide, providing high quality instant ticket products, licensed games, and strategic marketing and management services for both traditional instant games and the emerging iLottery space of web, mobile and social channels. The company is a proven innovator and has decades of experience helping lotteries to maximize player engagement, sales, and proceeds for good causes. Pollard Banknote also plays a major role in the charitable pull-tab and bingo markets in North America. Established in 1907, Pollard Banknote is owned approximately 73.5% by the Pollard family and 26.5% by public shareholders, and is publicly traded on the TSX (PBL). For more information, please visit our website at www.pollardbanknote.com.
Forward-looking Statements
Certain statements in this press release may constitute "forward-looking" statements and information, which involve known and unknown risks, uncertainties, and other factors that may cause actual results, performance, or achievements to be materially different from any future results, performance, or achievements expressed or implied by such forward-looking statements. When used in this document, such statements include such words as "may," "will," "expect," "believe," "plan," and other similar terminology. These statements reflect management's current expectations regarding future events and operating performance and speak only as of the date of this document. There should not be an expectation that such information will in all circumstances be updated, supplemented, or revised whether as a result of new information, changing circumstances, future events, or otherwise.
-30-
FOR MORE INFORMATION CONTACT:
Pollard Banknote Limited
Telephone: (204) 474-2323