WINNIPEG, Manitoba, October 24, 2017 /CNW/ – Pollard Banknote Limited (TSX: PBL) ("Pollard Banknote") extends congratulations to the Minnesota State Lottery ("Minnesota Lottery") on the success of two recent games, its $10 $8,000,000 Cash Blowout and the $20 Cash Vault Crossword oversized ticket, both launched in summer 2017. These money-themed tickets experienced sales worthy of the Lottery's record books.

Based on 10-week average sales, $8,000,000 Cash Blowout is the Lottery's top-selling $10 game since 2004! The unique prizing offered by the Lottery's "Cash Blowout" games—first introduced in 2014—has always been successful in Minnesota. Loaded exclusively with $50 and $100 prizes, players remember and share their winning experiences. This most recent game, $8,000,000 Cash Blowout, printed by Pollard Banknote, has proven to be the most successful ever!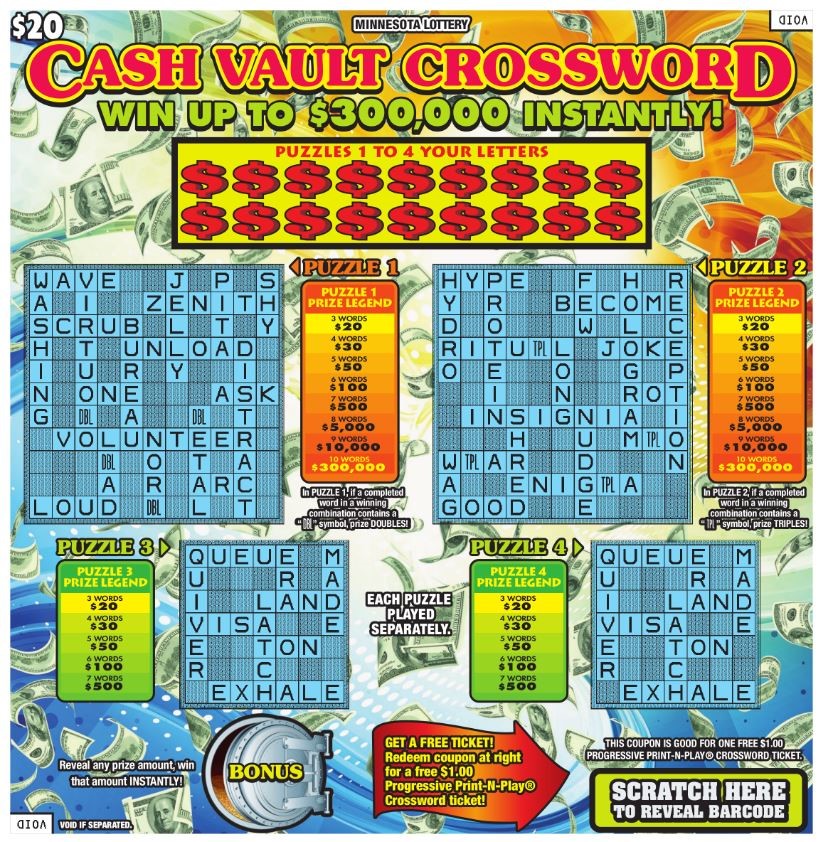 Cash Vault Crossword is the Lottery's best-selling $20 crossword game to date (based on 10-week average sales). The Lottery has cashed in by leveraging an oversized ticket format (larger than 48 square inches in area). Cash Vault Crossword is the fifth oversized ticket Pollard Banknote has printed for the Minnesota Lottery. The first ticket, Big Cash Crossword (2012), made a big impression on the judges at the North American Association of State and Provincial Lotteries (NASPL), who chose the ticket as a Finalist for the Best New Instant Game of the Year!

Cash Vault Crossword continues to build the "big ticket" product line by offering great play value. The game design offers a combination of features that lottery players love—a top prize of $300,000, four crossword grids, an instant-win bonus, and a coupon that can be redeemed at retail for a free Progressive Print-N-Play® Crossword game.

"We are very excited to continue our strong partnership with Pollard Banknote," said Jason LaFrenz, Director of Marketing and Sales, Minnesota Lottery. "We rely heavily on our primary printing partner for game design, marketing, and strategy leadership. Pollard Banknote continues to help the Lottery enhance our product portfolio through its innovative products and deep understanding of our instant ticket market which helps build our overall brand and increase revenue for the General Fund and the Minnesota environment."

"Pollard Banknote has been a proud partner with the Minnesota Lottery for almost a decade," said Byron Peterson, Director, Sales & Marketing, Pollard Banknote. "The Lottery and Pollard Banknote both share a vision of driving sales through delivering innovative and entertaining games that engage players and retailers."

The Minnesota Lottery has been supporting good causes throughout the state since 1989. Over the years the Lottery has raised over $2.8 billion that is directed to the General Fund and the Minnesota environment. The General Fund supports education, health care, local governments, and public safety. The funds also help the environment in many ways through the Environment and Natural Resources Trust Fund. For more information about the Lottery, please visit www.mnlottery.com.
About Pollard Banknote
Pollard Banknote is a leading lottery partner to more than 60 lotteries worldwide, providing high quality instant ticket products, licensed games and strategic marketing and management services for both traditional instant games and the emerging iLottery space of web, mobile and social channels. The company is a proven innovator and has decades of experience helping lotteries to maximize player engagement, sales, and proceeds for good causes. Pollard Banknote also plays a major role in the charitable pull-tab and bingo markets in North America. Established in 1907, Pollard Banknote is owned approximately 73.5% by the Pollard family and 26.5% by public shareholders and is publicly traded on the TSX (PBL). For more information, please visit our website at www.pollardbanknote.com.
Forward-looking Statements
Certain statements in this press release may constitute "forward-looking" statements and information, which involve known and unknown risks, uncertainties, and other factors that may cause actual results, performance, or achievements to be materially different from any future results, performance, or achievements expressed or implied by such forward-looking statements. When used in this document, such statements include such words as "may," "will," "expect," "believe," "plan," and other similar terminology. These statements reflect management's current expectations regarding future events and operating performance and speak only as of the date of this document. There should not be an expectation that such information will in all circumstances be updated, supplemented, or revised whether as a result of new information, changing circumstances, future events, or otherwise.
-30-
Pollard Banknote Limited
Telephone: (204) 474-2323