WINNIPEG, Manitoba, February 5, 2018 /CNW/
–
Pollard Banknote Limited
(TSX: PBL) ("Pollard Banknote") is pleased to congratulate the Texas Lottery® on the success of its
Season's Greetings
holiday instant ticket. Each year, the Texas Lottery launches a Christmas-themed instant ticket to help players celebrate the holiday season. This year's
Season's Greetings
ticket exceeded sales expectations in its first five weeks by becoming the top selling $10 holiday game since 2012, surpassing the average five-week sales of past $10 holiday games by 24%!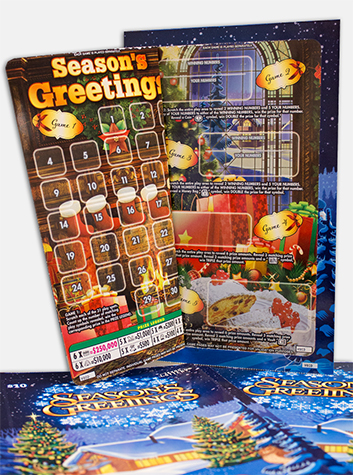 Launched in November 2017,
Season's Greetings
is an extra-large 7.8" x 12" ticket that leverages Pollard Banknote's patented Fusion™ innovation. Fusion™ products use two layers of laminated card stock to transform an instant ticket into a self-contained pouch offering players an exciting experience and multiple areas for game play.
The
Season's Greetings
instant ticket invites players to dream of a winter wonderland with the image of a cozy cabin surrounded by ornament-filled pine trees, woodland creatures, and an abundance of snow. The ticket opens to reveal a traditional holiday scene inside the cabin, complete with a roaring fireplace trimmed with stockings and a decorated tree surrounded by presents. Throughout this festive scene are multiple match games providing players an extended holiday play experience!
"We are thrilled with the success the
Season's Greetings
ticket generated during the holiday season," said Gary Grief, Executive Director of the Texas Lottery. "Combining the oversized ticket style with an evocative seasonal scene commanded attention at retail stores and provided our players with a fun way to celebrate the holidays."
"The Texas Lottery continues to incorporate innovation into its instant tickets and Pollard Banknote is proud of the success they have seen with the launch of their holiday
Season's Greetings
ticket," said Brad Thompson, Director, Sales and Marketing, Pollard Banknote. "
Season's Greetings
' large size and present-like format delivers the extra value players look for over the holiday season, whether for themselves or as a gift for friends and family."
Established in 1992, the Texas Lottery is committed to generating revenue for the State of Texas through the responsible management and sale of entertaining lottery products. Maintaining the highest standards of security and integrity, the Texas Lottery has generated more than $27 billion in revenue for good causes in the state of Texas, including public education and veterans' assistance. Following record sales in 2017, the Lottery contributed more than $1 billion to good causes for the 14th consecutive year, with $1.313 billion going to the Foundation School Fund and $16.2 million to the Texas Veterans Commission.