WINNIPEG, Manitoba, February 2, 2023 /CNW/ – Pollard Banknote Limited ("Pollard Banknote"; TSX: PBL) is pleased to announce that it has partnered with Atlas Experiences, LLC ("Atlas") to introduce a new multi-jurisdictional Frogger instant game program. Leveraging the brand's longstanding success across lottery markets, the new multi-jurisdictional program will turn instant tickets into winning events. In this unique promotion, each participating lottery will send a select number of lucky winners to hop over the pond to Ireland!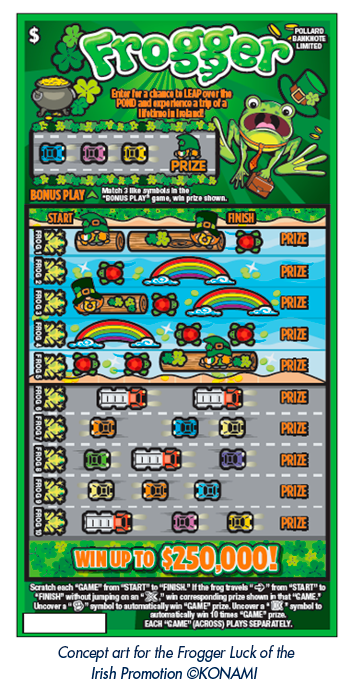 This multi-jurisdictional program will provide participating lotteries with the opportunity to offer a showstopping grand prize and access to an integrated marketing campaign, while sharing the costs across jurisdictions. Every element of the new program will be infused with an Irish spin on the classic Frogger theme, culminating with a trip to the Emerald Isle for lucky winners. This once-in-a-lifetime trip will include three nights at the Hard Rock Hotel Dublin and three nights at Ireland's most magical address, Adare Manor. A full week of exclusive events will allow lottery winners to take in Ireland's history, breathtaking sights, and Irish cuisine. Second-chance prize winners can also add some green to their pockets with a chance to win $50,000 in cash prizes.
Released in 1981, Frogger is one of the most popular arcade brands of all time, selling over 20 million copies in its home video version and placing 16th on TIME magazine's Top 100 video games. Part of the Pollard Banknote licensed game portfolio for over a decade, Frogger has been a player favorite and a proven instant game performer across playstyles and price points. It's so enduringly popular that 53 Froggergames have been launched by 30 lotteries across North America with consistent success. First-time launches reached an average 10-week index of 138, leading to 23 subsequent launches.
"Atlas Experiences is thrilled to be partnering with Pollard Banknote on this exciting multi-jurisdictional Frogger second-chance program that will send lucky grand prize winners on a truly once-in-a-lifetime trip to Ireland in 2025," said Derek Gwaltney, Founder and CEO of Atlas Experiences. "The vision of Atlas is to craft custom experiences that deliver the wow factor and winning moments that winners are excited to share, and this promotion delivers in all respects."
"Pollard Banknote is pleased to partner with Atlas Experiences to leverage the proven popularity of Frogger in a multi-jurisdictional program," said Brad Thompson, Vice President, Sales & Marketing, Pollard Banknote. "This promotion is particularly exciting for smaller jurisdictions that may not have the resources to offer a large-scale promotion like this on their own. We're looking forward to working with our lottery partners to deliver this program to players across North America."
About Konami Cross Media NY, Inc.
Konami Cross Media NY, Inc. is a member of KONAMI Group and specializes in multiplatform brand management and production. Konami Cross Media NY takes a 360-degree approach in managing the rights to globally iconic IPs such as Yu-Gi-Oh!, BOMBERMAN, CONTRA and Frogger.
About Atlas Experiences, LLC
Atlas Experiences is a marketing and promotional company specializing in once-in-a-lifetime promotional prizes, exclusive events, incentive travel programs, and custom promotions. Atlas focuses on crafting custom second-chance promotion strategies that create excitement to drive consumer engagement. Delivering turnkey services to include promotion design, marketing strategies, destination sourcing, hotel contracting, travel logistics, event support staff, onsite logistics, social creative content, private concerts, custom merchandise, videography, photography, and guest services. Atlas Experiences integrates innovative technologies to engage consumers and infuse winning moments for a truly unforgettable experience.
About Pollard Banknote
Pollard Banknote is a leading lottery partner to more than 60 lotteries worldwide, providing high-quality instant ticket products, licensed games, in-lane ticket options, and sales-driving merchandising solutions from its Schafer Retail Solutions + portfolio. It also offers a full suite of digital offerings, ranging from world-class game apps to comprehensive player engagement and iLottery solutions, including strategic marketing and management services. The company is a proven innovator and has decades of experience helping lotteries to maximize player engagement, sales, and proceeds for good causes. Pollard Banknote also provides pull-tab tickets, bingo paper, ticket vending machines, and its Diamond Game and Compliant Gaming electronic games and devices to charitable and other gaming markets in North America. Established in 1907, Pollard Banknote is owned approximately 64.3% by the Pollard family and 35.7% by public shareholders, and is publicly traded on the Toronto Stock Exchange (TSX: PBL). For more information, please visit our website at www.pollardbanknote.com.
Forward-looking Statements
Certain statements in this press release may constitute "forward-looking" statements and information, which involve known and unknown risks, uncertainties, and other factors that may cause actual results, performance, or achievements to be materially different from any future results, performance, or achievements expressed or implied by such forward-looking statements. When used in this document, such statements include such words as "may," "will," "expect," "believe," "plan," and other similar terminology. These statements reflect management's current expectations regarding future events and operating performance and speak only as of the date of this document. There should not be an expectation that such information will in all circumstances be updated, supplemented, or revised whether as a result of new information, changing circumstances, future events, or otherwise.
-30-
FOR MORE INFORMATION CONTACT:
Pollard Banknote Limited
Telephone: (204) 474-2323