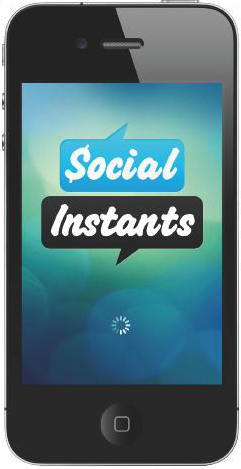 WINNIPEG, Manitoba, October 10, 2011 /CNW/ – Pollard Banknote Limited (TSX: PBL) (Pollard Banknote) is pleased to introduce its patent pending Social Instants™ product. Aimed a t helping lotteries appeal to the 18-34 year old emerging market and other users of mobile technology, Social Instants harnesses the marketing power of mobile and social media with traditional instant tickets to facilitate winner awareness messaging and group play.
"While Instant tickets have achieved growth of about 136% over the past 10 years, emerging technology of fers the opportunity for significant growth, particularly in the younger demographic", stated Pollard Banknote Co-Chief Executive Officer Doug Pollard. "Our goal with Social Instants is three-fold, yet simple. First, explode winner awareness via social media tools like Facebook, Twitter, or a lottery's VIP site. Second, enable and encourage players to invite their friends and family to participate in the team play aspect. The third goal is to drive players back to retail outlets for purchase and prizes, to capitalize on lotteries' biggest assets, their retail network."
The exclusive Social Instants mobile app will interface with instant tickets via Quick Response (QR) codes printed on the physical ticket. Using Pollard Banknote's patent pending Quick Link™ technology, players will use Smartphones to scan the QR code which will prompt them to share winning moments and experiences with friends, or enter a second chance draw which may also integrate with the a lottery's VIP club. Social Instants also offers players the opportunity to increase their prize eligibility by creating teams where each eligible ticket entry contributes to the team's chance to win a collective prize pool.
"We are pleased to see more and more lotteries interacting with players online," said Nancy Bettcher, Director, Product Innovation & Development, Pollard Banknote. "We have collaborated with lotteries to form an interactive online presence. Our new Social Instants™ offering is a powerful tool that will help our business partners gain new customer bases, and retain existing ones."
The Social Instants concept will be previewed a t the lottery industry's upcoming 2011 North American Association of State and Provincial Lotteries (NASPL) Conference and Tradeshow in Indianapolis, Indiana. The event runs f rom October 24 to 28, 2011 and includes representatives from all North American lotteries.
About Pollard Banknote Limited
Pollard Banknote Limited is one of the world's leading full-service lottery vendors and is a major supplier to North America's charitable gaming industry. The company manufactures instant tickets and provides related programming, design, and marketing support. As well, Pollard Banknote manufactures pull tab tickets and bingo paper, and supplies lottery management services (including warehousing and distribution). Established in 1907, Pollard Banknote is owned approximately 73.5% by the Pollard family and 26.5% by public shareholders and currently serves more than 50 lotteries worldwide, including some of the largest and most respected lotteries in the United States, Canada, Europe, Asia, and Central and South America.
Forward-looking Statements
Certain statements in this press release may constitute "forward-looking" statements and information which involve known and unknown risks, uncertainties, and other factors which may cause actual results, performance, or achievements to be materially different from any future results, performance, or achievements expressed or implied by such forward-looking statements. When used in this document, such statements include such words as "may," "will," "expect," "believe," "plan," and other similar terminology. These statements reflect management's current expectations regarding future events and operating performance and speak only as of the date of this document. There should not be an expectation that such information will in all circumstances be updated, supplemented, or revised whether as a result of new information, changing circumstances, future events, or otherwise.
FOR MORE INFORMATION, CONTACT:
John Pollard (jpollard@pbl.ca)
Co-Chief Executive Officer
Phone: (204) 474-2323
Facsimile: (204) 453-1375

Doug Pollard (dpollard@pbl.ca)
Co-Chief Executive Officer
Phone: (204) 474-2323
Facsimile: (204) 453-1375
Nancy Bettcher (nbettcher@pbl.ca)
Director, Product Innovation & Development
Phone: (204) 474-2323
Facsimile: (204) 453-1375