WINNIPEG, Manitoba, June 1, 2015 /CNW/ – Pollard Banknote Limited (TSX: PBL) ("Pollard Banknote") is excited to announce that Norway's national lottery, Norsk Tipping AS, is the first lottery in the world to market the latest Pollard Banknote instant ticket innovation—Eco Scratch™. Pengedryss and KryssordFlax—two instant games offered regularly in the Norwegian market—are refreshed and revitalized with the artisanal retro visual appeal of Eco Scratch™.

Pengedryss, sold at the 50 Norwegian kroner (kr) price point, launched earlier this year, and the 30 kr KryssordFlax will be available at Norwegian retailers in late summer.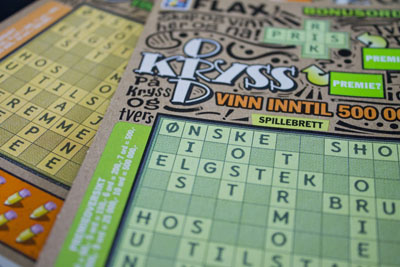 Pollard Banknote's Eco Scratch™ leverages the latest package design trend—kraft paper. This trend is part of the shift toward clean, simple designs that stand out at retail. Consumer packaged goods companies are capitalizing on this material to give products a handcrafted, one-of-a kind feel or to highlight an environment-friendly feature. Although the organic, recycled look and feel of Eco Scratch™ lends itself to vintage designs, it is also perfect for creating striking modern designs when combined with well-chosen fonts and colors.

"Pollard Banknote's Eco Scratch™ adds a new, distinct look to our instant game portfolio. It offers a unique alternative to foil and white card stock, and printing on this stock gives us color options and combinations that are simply not possible with standard stocks," explained Vibeke K. Haakonsen, Brand Manager, FLAX (Norsk Tipping's instant product line). "We like to change the ticket art on our base games regularly, and Eco Scratch™ is the latest print innovation available."

Pollard Banknote's Eco Scratch™ tickets also offer lottery players an eco-friendly way to play and win! Eco Scratch™ paper stock is made from 60% recycled fibers (35% post-consumer).

"As an impulse purchase, an instant ticket must be eye-catching. Eco Scratch™ offers a whole new look, allowing tickets to cut through retail clutter, while also catering to environmentally conscious players," said Nancy Bettcher, Vice President, Product Innovation & Development, Pollard Banknote. "Norsk Tipping is no stranger to trying new products and utilizing the most cutting-edge and creative ticket art designs, so it is no surprise that they are the first lottery to launch an Eco Scratch™ game. The list of lotteries taking notice of this innovation's multifaceted value proposition is growing, with US and other international lotteries recently adding Eco Scratch™ to their instant ticket offerings."

Located in Hamar, Norway, Norsk Tipping is a wholly state-owned lottery. Founded in 1948, the Lottery's main objective is to provide the Norwegian people with entertaining games in a socially responsible manner. In FY2014, Norsk Tipping contributed a record 4.2 billion kr (approximately $536 million USD) to a variety of sports, culture, volunteer, and other charitable organizations.
About Pollard Banknote
Pollard Banknote is a leading lottery partner to more than 50 lotteries worldwide, providing high quality instant ticket products, licensed games and strategic marketing and management services for both traditional instant games and the emerging iLottery space of web, mobile and social channels. The company is a proven innovator and has decades of experience helping lotteries to maximize player engagement, sales, and proceeds for good causes. Pollard Banknote also plays a major role in the charitable pull-tab and bingo markets in North America. Established in 1907, Pollard Banknote is owned approximately 73.5% by the Pollard family and 26.5% by public shareholders and is publicly traded on the TSX (PBL). For more information, please visit our website at www.pollardbanknote.com.
Forward-looking Statements
Certain statements in this press release may constitute "forward-looking" statements and information, which involve known and unknown risks, uncertainties, and other factors that may cause actual results, performance, or achievements to be materially different from any future results, performance, or achievements expressed or implied by such forward-looking statements. When used in this document, such statements include such words as "may," "will," "expect," "believe," "plan," and other similar terminology. These statements reflect management's current expectations regarding future events and operating performance and speak only as of the date of this document. There should not be an expectation that such information will in all circumstances be updated, supplemented, or revised whether as a result of new information, changing circumstances, future events, or otherwise.
-30-
FOR MORE INFORMATION CONTACT:
Doug Pollard
Co-Chief Executive Officer        
Telephone: (204) 474-2323       
E-mail: dpollard@pbl.ca
John Pollard
Co-Chief Executive Officer        
Telephone: (204) 474-2323       
E-mail: jpollard@pbl.ca
Rob Rose
Chief Financial Officer        
Telephone: (204) 474-2323       
E-mail: rrose@pbl.ca