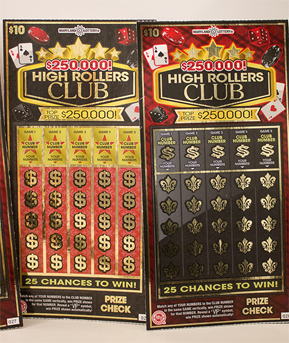 WINNIPEG, Manitoba, October 12, 2016 /CNW/ – Pollard Banknote Limited (TSX: PBL) ("Pollard Banknote") is pleased to congratulate the Maryland Lottery and Gaming Control Agency ("Maryland Lottery") on the success of its $10 instant game, $250,000! High Rollers Club. Based on the first 25 weeks of sales, this game is selling 29% higher than the Lottery's average $10 game since 2013. To date, $250,000! High Rollers Club has earned close to $15.8 million in sales for the Lottery (all figures in USD).

The strong performance of $250,000! High Rollers Club was a contributing factor in the 25% jump in the Lottery's $10 instant game sales from FY2015 to FY2016. The game's sales also played a role in the Lottery's overall instant sales growth; FY2016 sales reached a record high of $611.3 million, a 12% increase over the previous year.

Launched in February 2016, $250,000! High Rollers Club is available in two designs, both reflecting two popular lottery themes: cash and casino gaming. One design is set on an elegant black pattern, while the other is on a lush red backdrop. While stylistically similar, the two versions' game play areas are unique.

This outstanding ticket shines with Scratch FX®, a patented Pollard Banknote printing feature that adds sparkling effects to enhance an instant ticket's visual appeal. The gold Scratch FX® contrasts with the black and red backgrounds for a premium look. Further heightening the game's aesthetic appearance, its high-gloss varnish finish. These design treatments come together to create an eye-catching ticket that stands out at retail to attract impulse buyers.

Pollard Banknote's Scratch FX® products have been helping lotteries grow sales for more than 10 years. More than 500 Scratch FX® games have been launched by 42 lotteries worldwide, earning over $10 billion in sales.

"Pollard Banknote is thrilled about the success of the Maryland Lottery's latest $10 ticket enhanced with Scratch FX®," said Jennifer Westbury, Executive Vice President, Sales & Customer Development, Pollard Banknote. "Over more than 10 years as the Lottery's primary instant ticket contractor, we have worked hard to support the Lottery with great innovative products and value-add services like expert design, marketing insights and strategic guidance to help drive sales for good causes. We look forward to continuing this collaborative relationship with the Lottery."

The Maryland Lottery and Gaming Control Agency generates revenue to help support good causes within Maryland. Since its inception in 1973, the Lottery has generated $15 billion in revenue to the State and awarded more than $23.3 billion in prizes to players. In fiscal year 2016 the Maryland Lottery contributed $569.8 million in revenue to the state's General Fund, which supports education, public health, public safety, human resources and the environment.
About Pollard Banknote
Pollard Banknote is a leading lottery partner to more than 60 lotteries worldwide, providing high quality instant ticket products, licensed games, and strategic marketing and management services for both traditional instant games and the emerging iLottery space of web, mobile and social channels. The company is a proven innovator and has decades of experience helping lotteries to maximize player engagement, sales and proceeds for good causes. Pollard Banknote also plays a major role in the charitable pull-tab and bingo markets in North America. Established in 1907, Pollard Banknote is owned approximately 73.5% by the Pollard family and 26.5% by public shareholders and is publicly traded on the TSX (PBL). For more information, please visit our website at www.pollardbanknote.com.
Forward-looking Statements
Certain statements in this press release may constitute "forward-looking" statements and information, which involve known and unknown risks, uncertainties, and other factors that may cause actual results, performance, or achievements to be materially different from any future results, performance, or achievements expressed or implied by such forward-looking statements. When used in this document, such statements include such words as "may," "will," "expect," "believe," "plan," and other similar terminology. These statements reflect management's current expectations regarding future events and operating performance and speak only as of the date of this document. There should not be an expectation that such information will in all circumstances be updated, supplemented, or revised whether as a result of new information, changing circumstances, future events, or otherwise.
-30-
FOR MORE INFORMATION CONTACT:
Pollard Banknote Limited
Telephone: (204) 474-2323