WINNIPEG, Manitoba, March 7, 2017 /CNW/ – Pollard Banknote Limited (TSX: PBL) ("Pollard Banknote") is pleased to congratulate the Hoosier Lottery on the launch of its $10 Cash Vault instant ticket featuring Pollard Banknote's innovative Jumbo Pop 'n' Play™ design. The visually dramatic $10 Cash Vault ticket marks the first-ever launch of Pollard Banknote's Jumbo Pop 'n' Play™ product and offers players the chance to win up to $300,000. Cash Vault boasts a creative design and unique folded format that allows for more than double the play area of standard Scratch-off tickets! Players 'unlock' the Jumbo Pop 'n' Play™ Cash Vault ticket to reveal a jumbo layout of three money-themed games, loaded with 75 chances to win up to $300,000! The front panels incorporate the doors of a vault to invite players to open the ticket and play.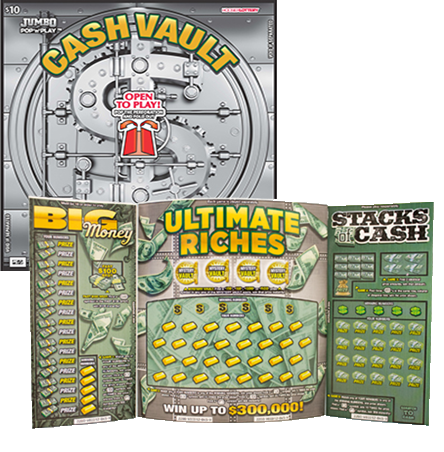 "With the launch of our new ticket, Cash Vault with Jumbo Pop 'n' Play™, we offer our players another unique way to play our popular Scratch-off games," said Sarah M. Taylor, Executive Director, Hoosier Lottery. "We are always looking for new, exciting, and engaging games for players, and this innovation is a great addition to the large- format games that our players enjoy."

Offering maximum play value, Cash Vault with Jumbo Pop 'n' Play™ follows in the footsteps of Pollard Banknote's other popular large-format products like PlayBook®, Big Ticket and Scratch Tab™. Jumbo Pop 'n' Play™ takes the big ticket format even further, and is a perfect option for lotteries' higher price points. This folded ticket offers great flexibility in the number, size, and positioning of play areas on a ticket—from filling the entire inside panel with play areas, to the possibility of covering every surface for a maximum, jumbo play experience!

"We are very excited to see the first launch of Pollard Banknote's innovative Jumbo Pop 'n' Play™ product with the Hoosier Lottery's Cash Vault ticket," said Nancy Bettcher, Vice President, Product Innovation & Development, Pollard Banknote. "Players expect a lot of gameplay from higher price points, and this delivers big time value to players. The size and value offered by this ticket concept will guarantee that games stand out at retail and provide lotteries with a great opportunity to continue to strengthen the $10+ offering, or introduce a large-format ticket to the market for the first time."

The Hoosier Lottery is dedicated to building a stronger, safer, smarter Indiana. Every year since the Lottery's inception in 1989, Hoosier Lottery funds have supported local police and firefighters' pensions, the Teacher's Retirement Fund, and the Build Indiana Fund. Since 1989, and including FY 2015, a total of $4.8 billion has been transferred to State with $242 million donated to causes in FY 2015 alone.
About Pollard Banknote
Pollard Banknote is a leading lottery partner to more than 60 lotteries worldwide, providing high quality instant ticket products, licensed games, and strategic marketing and management services for both traditional instant games and the emerging iLottery space of web, mobile and social channels. The company is a proven innovator and has decades of experience helping lotteries to maximize player engagement, sales and proceeds for good causes. Pollard Banknote also plays a major role in the charitable pull-tab and bingo markets in North America. Established in 1907, Pollard Banknote is owned approximately 73.5% by the Pollard family and 26.5% by public shareholders and is publicly traded on the TSX (PBL). For more information, please visit our website at www.pollardbanknote.com.
Forward-looking Statements
Certain statements in this press release may constitute "forward-looking" statements and information, which involve known and unknown risks, uncertainties, and other factors that may cause actual results, performance, or achievements to be materially different from any future results, performance, or achievements expressed or implied by such forward-looking statements. When used in this document, such statements include such words as "may," "will," "expect," "believe," "plan," and other similar terminology. These statements reflect management's current expectations regarding future events and operating performance and speak only as of the date of this document. There should not be an expectation that such information will in all circumstances be updated, supplemented, or revised whether as a result of new information, changing circumstances, future events, or otherwise.
-30-
FOR MORE INFORMATION CONTACT:
Pollard Banknote Limited
Telephone: (204) 474-2323