WINNIPEG, Manitoba, August 14, 2019 /CNW/ – Pollard Banknote Limited (TSX: PBL) ("Pollard Banknote"), a leading lottery partner that provides high-performing instant tickets, interactive solutions, and marketing support, is pleased to announce the recent addition of WWE to its portfolio of licensed brands. With a broad audience appeal containing a diverse fanbase spanning multiple generations, WWE is a natural fit for lottery partnership.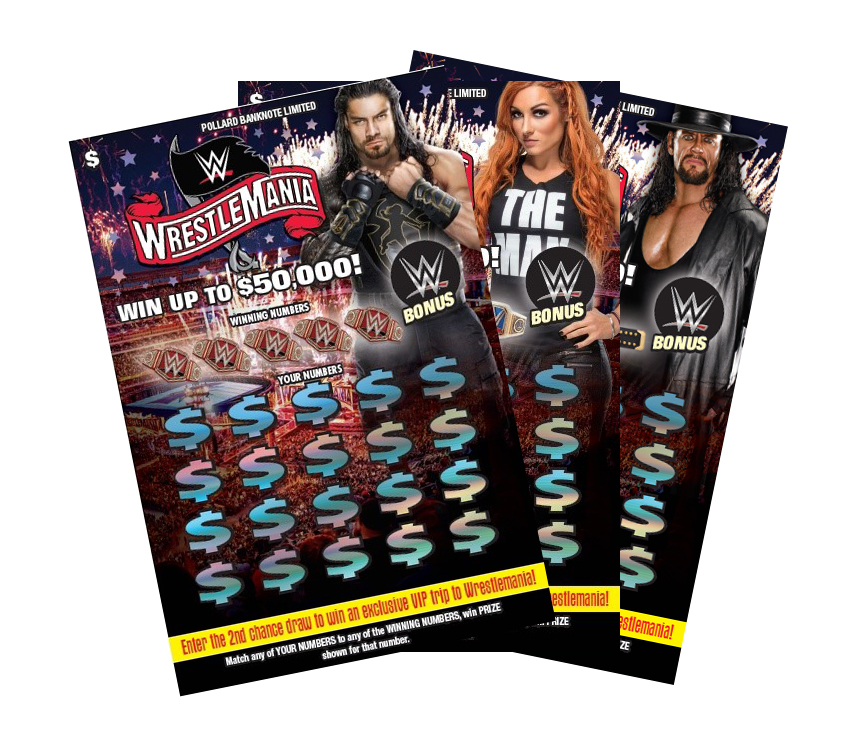 WWE offers incredible creative design and promotional opportunities sure to delight lottery players. A wide range of Superstars and highly-recognizable brand iconography offer nearly limitless possibilities for ticket art that will capture attention at retail. Lotteries can also take advantage of the more than 500 live events per year hosted by WWE to create spectacular experiential prizes, featuring travel to events, ringside seating and Superstar meet-and-greets. More than 175 licensees, including apparel, home goods, and video game providers, afford ample merchandizing and prize opportunities for social media contests and second chance drawings. Pollard Banknote's Licensed Products team offers a full turnkey program that includes the ticket design, printing, merchandising and prizes, digital engagement, and promotional options.

"The inspirational and entertaining nature of WWE is the perfect pairing for the lottery industry, offering diverse ticket art and enticing promotional opportunities sure to attract and engage players," said Brad Thompson, Vice President, Sales & Marketing, Pollard Banknote. "WWE brings a loyal fanbase and we are excited to offer fun and innovative instant tickets featuring the brands' Superstars."

About WWE®
WWE, a publicly traded company (NYSE: WWE), is an integrated media organization and recognized leader in global entertainment. The company consists of a portfolio of businesses that create and deliver original content 52 weeks a year to a global audience. WWE is committed to family-friendly entertainment on its television programming, pay-per-view, digital media and publishing platforms. WWE's TV-PG, family-friendly programming can be seen in more than 800 million homes worldwide in 28 languages. WWE Network, the first-ever 24/7 over-the-top premium network that includes all live pay-per-views, scheduled programming and a massive video-on-demand library, is currently available in more than 180 countries. The company is headquartered in Stamford, Conn., with offices in New York, Los Angeles, London, Mexico City, Mumbai, Shanghai, Singapore, Dubai, Munich and Tokyo.
Additional information on WWE (NYSE: WWE) can be found at wwe.com and corporate.wwe.com. For information on our global activities, go to wwe.com/worldwide/.
About Pollard Banknote
Pollard Banknote is a leading lottery partner to more than 60 lotteries worldwide, providing high quality instant ticket products, licensed games, Schafer Systems retail merchandising solutions, and a full suite of digital offerings, ranging from game apps to comprehensive player engagement and iLottery solutions, including strategic marketing and management services. The company is a proven innovator and has decades of experience helping lotteries to maximize player engagement, sales, and proceeds for good causes. Pollard Banknote also provides pull-tab tickets, bingo paper, and its Diamond Game and Oasis-branded electronic ticket machines to charitable and other gaming markets in North America. Established in 1907, Pollard Banknote is owned approximately 67.5% by the Pollard family and 32.5% by public shareholders, and is publicly traded on the TSX (PBL). For more information, please visit our website at www.pollardbanknote.com.
Forward-looking Statements
Certain statements in this press release may constitute "forward-looking" statements and information, which involve known and unknown risks, uncertainties, and other factors that may cause actual results, performance, or achievements to be materially different from any future results, performance, or achievements expressed or implied by such forward-looking statements. When used in this document, such statements include such words as "may," "will," "expect," "believe," "plan," and other similar terminology. These statements reflect management's current expectations regarding future events and operating performance and speak only as of the date of this document. There should not be an expectation that such information will in all circumstances be updated, supplemented, or revised whether as a result of new information, changing circumstances, future events, or otherwise.
-30-
FOR MORE INFORMATION CONTACT:
Brad Thompson
Vice President, Sales & Marketing
E-mail: bthompson@pbl.ca
Pollard Banknote Limited
Telephone: (204) 474-2323